October 17, 2019
The Union and Co-op management bargaining teams met on Wednesday, October 16 to continue negotiations for a union contract. We came to agreement on an interim grievance procedure for any disciplinary or attendance issues that arise before our contract is in place. We also discussed ways to resolve non-disciplinary issues that come up before our contract is negotiated.
We made initial progress on several important issues, including just cause and non-discrimination, and we reached tentative agreements on several items. (A tentative agreement means the two sides have reached agreement on a certain issue, however these agreements won't go into effect until the entire contract is negotiated and ratified by the membership.) As is customary in contract bargaining, we started with areas where there is relatively little disagreement between the Union and Co-op management. Agreements reached were:
• Probationary Period - 90 days from the date of hire
• Personnel files - Employees have a right to see the information in their files, the employer has 5 business days to give the employee access to this information
• Evaluations - because evaluations will not be linked to discipline or to wage increases under the union contract, Co-op management proposed to discontinue evaluations, and the Union has agreed. Managers would use coaching and give employees feedback on performance.
• The contract Preamble and Agreement clause - these clauses open the contract and are of minor importance.
We will meet again on Tuesday, October 22.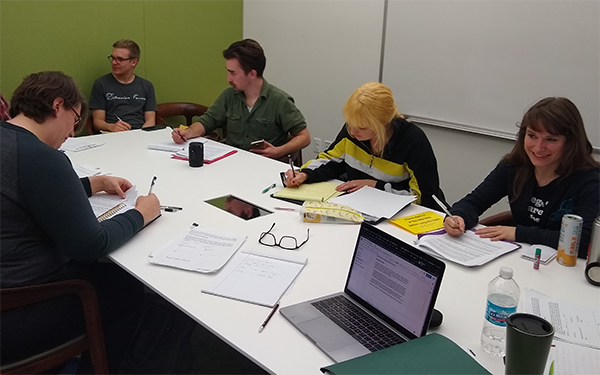 Get Involved, Help Win a Good Contract
Our strength at the bargaining table doesn't just depend on our bargaining committee. It depends on all of us. You can be an important part of the fight for a good contract and help build our collective power over the long term by joining the Contract Support, Communications, Community/Labor Solidarity, Member-Owners Solidarity, or Culture and Political Education committees. Contact an interim steward or call/e-mail us at 312-686-0096 or john.ocampo@ueunion.org to get involved.
Public Event - Oct. 30th at 7 p.m
Wednesday, Oct. 30th at 7 p.m. at Harmony Bar & Grill (2201 Atwood Ave.): Madison Democratic Socialists of America-organized public event on the Willy Street Co-op organizing campaign. This will be a good opportunity to build further public support for ourselves as we bargain our first union contract. It will also help in letting it be known to other workers in Madison that UE is here to help them organize their workplaces. This event is open to all. Invite everyone you know!