Help UE Local 1174 Members
Fight To Keep Their Jobs.
They agreed to keep working.
Quad City Die Casting locked them out.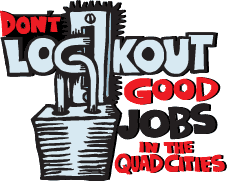 Help Save Good Jobs!
UE Local 1174 members in Moline, Il. thought they had an agreement to continue bargaining with their employer, Quad City Die Casting, but continue working under the terms of their old contract. But their employer clearly had other ideas ...
" ... now they want unlimited temps, part-timers, outsourcing and insourcing. If we agreed to this we'd all be out of a job."
— Local President Rich Nordholm
You Can help members of UE Local 1174 and their families during this lockout by:
Contributing to the UE Local 1174 Lockout Fund c/o Financial Secretary Bill Peterson, 2001 44th Street, Moline, IL, 61265.
Calling Quad City Die Casting Company President Drew DeBray at (309) 762-7346 and demanding that the company return to the bargaining table and agree to keep good jobs in the Quad Cities.
Visiting the picket line on the banks of the Mississippi River at 3800 River Drive in Moline.