UE General President Carl Rosen was one of three witnesses invited to testify to a Senate subcommittee hearing on Wednesday, July 26 about opportunities to clean up pollution in rail yards, reduce carbon emissions, and create jobs by instituting stricter regulations on railroad emissions.
"Rail yards are well-known as hotspots for pollution," Rosen told the subcommittee, "and in urban areas they are often located in low-income communities of color. Neighborhoods surrounding high-traffic yards in California have a significantly elevated rate of cancer. When wind carries air from a yard into a residential area, airborne black carbon spikes to twice the normal level for an urban area. Children living near rail yards have twice the incidence of asthma of those living at least four miles away.
"Hundreds of UE members work in these unhealthy environments on a daily basis. Many of them live there as well. It is unconscionable that we let this go on when existing technology can mitigate the issue, and now commercially-viable technologies like battery locomotives can all but eliminate it."
He said that instituting stricter standards would create jobs as well, driving additional purchases of the modern "Tier 4" locomotives and new battery-powered locomotives produced by members of UE Locals 506 and 618 in Erie, PA. A recent study by the University of Massachusetts-Amherst found that increased demand for these "green locomotives" could create thousands of jobs in Erie and throughout the country.
Rosen noted that "Tier 4 locomotives have been in production for almost a decade. Zero-emissions, battery-operated locomotives have been in use for years in rail yards. These are proven technologies. Their adoption is not a matter of technological feasibility, but of priorities. What is more important for our country? Clean air, addressing the climate crisis, and good jobs? Or corporate profits, executive bonuses, and payments to Wall Street?
"The Class 1 railroads, which own 90 percent of the locomotives on the rails, are enormously profitable. However, we need look no further than the disaster in East Palestine to see an example of how they prioritize profits over the public good. The bottom line is that they will not make this investment in our shared future unless our country requires them to."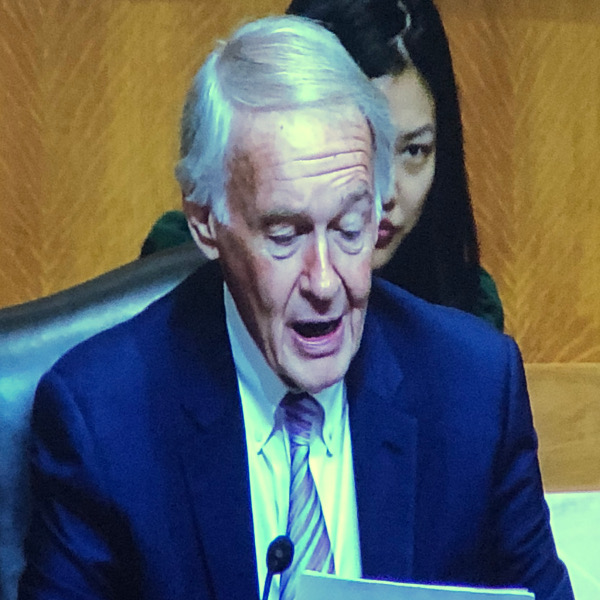 Senator Ed Markey (D-MA)
The hearing was held by the Senate Committee on Environment and Public Works's Subcommittee on Clean Air, Climate, and Nuclear Safety. Rosen was invited to testify by the subcommittee's chairman, Senator Ed Markey (D-MA). Markey was one of only three U.S. Senators to receive a 100% pro-worker score on the 2022 UE Congressional Scorecard, and also has a family connection to UE — his father was a vice president UE Local 272 in South Boston in the 1940s.
The other witnesses were Ivette Torres of the People's Collective for Environmental Justice and Ian Jefferies, the president & CEO of the American Association of Railroads.
Torres, who was raised in freight communities her whole life, spoke from the perspective of a community member who has known the effects of diesel emissions personally. She explained that the rail industry is poisoning her community, increasing the incidence of cancer and decreasing life expectancy by decades. "Outdated diesel engines... older than many of the people in the room... must be transitioned to safer, zero-emission technology," she said. "The technology is here."
Jeffries and the lead Republican on the subcommittee kept insisting — in clear contradiction to the facts — that adopting new technology was impossible. "It was pretty obvious to all present how empty their arguments were," Rosen reported.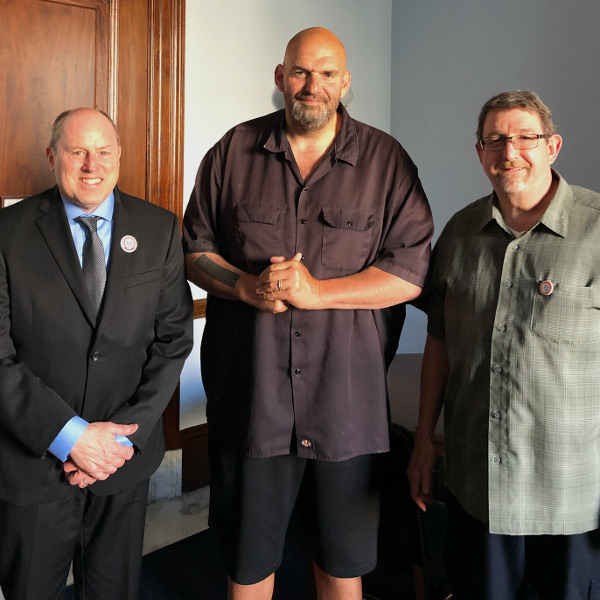 UE General President Carl Rosen (left) and retired UE Political Action Director Chris Townsend (right) with Senator John Fetterman (D-PA).
While in Washington, Rosen and retired UE Political Action Director Chris Townsend had what Rosen described as an "excellent meeting" with Senator John Fetterman (D-PA). They briefed the Senator about the ongoing strike by members of UE Locals 506 and 618 in Erie, PA, and Fetterman agreed to take several steps to aid the locals in their fight. Fetterman subsequently published an op-ed in the Erie Times-News supporting the workers and tweeted "Workers on strike always have my full support. I will stand with UE Locals 506 and 618 until they get the compensation they deserve."