Executive bonus packages dwarf wage reduction impacts on Erie economy
CONTACT
Scott Slawson:
814-899-3108
As 1,700 hourly workers remain locked out of the Wabtec plant in Lawrence Park, Pennsylvania, an economic impact study by nationally recognized firm, Parker Philips, shows the negative economic impact the proposed wage reductions would total about the same amount as Wabtec Chief Executive Officer, Raymond Betler's corporate merger bonus package.
Upon completion of the merger with GE transportation, a $16 million payment will be made to its CEO, Raymond Betler, and over $43 million in compensation to 19 other executives.
For the purposes of the analysis, Parker Philips examined a potential dip below currently contracted wages at 30%, 40%, and 50% for new hires/rehires. An analysis of the 466 call backs currently being negotiated, show that proposed wage reductions of 40% would result in a loss in direct and induced wages of $17.1 million, 82 more local jobs, and a ripple effect of $11 million in economic loss to the economy.
"If Wabtec has enough money to reward over $120 million to executives at its company and General Electric, it damn well has enough money to honor the existing union contract with workers in Erie, Pennsylvania," said United States Senator, Bernie Sanders. "What is happening in Erie is the continuation of corporate greed pure and simple. Our job is to end Wabtec's greed and make sure the company treats its workers with respect and dignity."
"This analysis shows that one person's treasure is entire region's tragedy," said Scott Slawson, President U.E. Local 506. "Unless Mr. Betler plans to spend his entire bonus package in Erie County, these proposed wage cuts would be a major hit to our local economy—particularly small businesses fueled in part by the hard-earned wages of Erie's extraordinary skilled labor force.  This report further fuels our resolve to stand up for our local economy and working families across the region"
"Our analysis shows that the wage cuts under discussion are relatively small compared to the total economic output of Wabtec," said Nichole Parker, Principal Partner, Parker Philips. "An analysis of the wage reductions clearly demonstrates that UE 506 workers and the local businesses that they support will bear the brunt of any wage cutbacks."
Sectors impacted include the service and retail sector, healthcare, wholesale trade, and transportation. While the majority of job losses occur in the railroad manufacturing sector, the loss of wages and spending power of jobs transferred will ripple throughout the entire Pennsylvania economy.
The full report can be viewed here, or at www.uelocal506.com and www.parkerphilips.com.
Upon closing on Monday, Wabtec executive vested in several different stock-based compensation products, including options, restricted stock, restricted stock units, and performance units.  The former two are essentially shares which are now vested, whereas the latter two will be settled in cash "as promptly as possible," according to merger documents. 
The chart below was compiled by United Electrical Radio & Machine Workers of America and calculates the awards presuming Wabtec's stock trading at $97.07.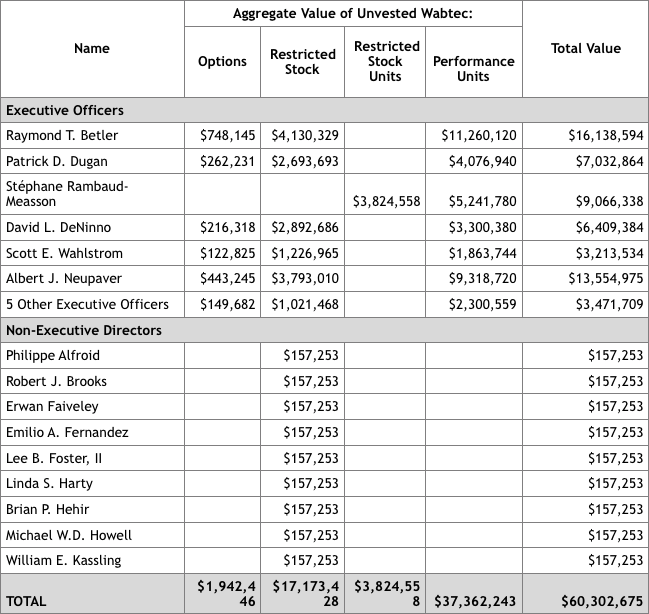 - 30 -