The (few) protections for workers facing plant closings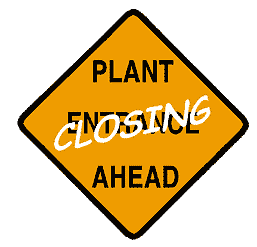 Issues
There are not many protections for U.S. workers facing a plant closing. Stewards and union officers must be familiar with the few that are available - especially the WARN act and similar state laws.
The WARN act requires 60 days advance notice of a closing in certain situations - unfortunately, many workplaces are too small to be covered by WARN (remember, bosses fought hard against even this limited legislation).
Many times, a closing can be predicted, prepared-for, and even averted by keeping a watchful eye on what's happening at work.
Note: This article was published in 1997
The WARN Act
Offers Some Protection
It does not offer a lot of protection — but at least it offers some warning to some workers in possible plant closing situations
The Worker Adjustment and Retraining Notification Act of 1988 (WARN Act) is intended to give workers, their families and the community sixty (60) days advance notice by an employer of any plant closing or mass layoff (unions can negotiate longer notice times). The employer must provide this notice to the union, to the elected officials of the town or city where the workplace is located and to the proper state officials.
WHO'S COVERED?
The WARN Act covers any employer with more than 100 employees, including all office and supervisory personnel. Workers who have not worked for the employer more than 6 months out of the last 12 and workers who average less than 20 hours per week are not counted.
WHAT TRIGGERS THE WARN ACT?
Plant closing: Notice must be given if a workplace or part of a workplace will be shutdown and 50 or more employees during a 30 day period will lose their jobs.
Mass layoff: The same 60 day advance notice must be given if there is to be a mass layoff not due to a plant closing but which will result in an employment loss during any 30 day period for 33% of the total active workplace (or 500 workers, whichever is fewer).
Sale of business: If any of the above thresholds are met during a complete or partial sale of a business then WARN Act notice must be given. If the closing or layoffs occur before the sale then the current owner is held responsible for giving the notice. If the new owner closes or initiates a mass layoff, the new owner is held responsible for giving the notice.
Definition of employment loss: Any termination of employment, (except for discharge for cause, voluntary quit or retirement) caused by a layoff exceeding 6 months or a reduction in an employee's hours of work of more than 50% in each month of a 6 month period. The employer can get around this definition of "employment loss" by offering an employee a job transfer to another worksite that is "within reasonable distance."
WARN ACT ENFORCEMENT
Unfortunately the WARN Act must be enforced by suing an employer in US District Court. The lawsuit can either be filed by the workers, the union, the city or town or an individual.
Penalties for failure to notify: An employer who violates the WARN Act can be held liable by the courts to pay employees up to 60 days back pay and benefits. This is reduced by the amount of pay workers actually received during the 60 day period prior to the closing or mass layoff.
There are exceptions to the notification rule. For example if it is beyond the employers ability to give proper notice, as in the case of a natural disaster or a sudden, unexpected cancellation of a large order by a customer. Many employers try to get around giving notice by laying off workers bit by bit so that a layoff doesn't appear to meet the "mass layoff" qualifications. Other employers have tried to layoff workers so that the total number falls below 100 employees when they finally close down the workplace.
STATE WARN ACTS MAY BE BETTER
Many states have laws which mirror the federal WARN Act. Some provide greater protection and services. If faced with a shutdown or mass layoff, make sure you contact the state agency which handles labor relations matters.
Although the WARN Act does not stop an employer from shutting down it does give us time to organize to stop the workplace from closing. This is the most important aspect of the law.
Early Notice of Warning
Signs May Save Your Plant
Many diseases once thought fatal can now be minimized by recognizing the warning signs and seeking early treatment.
The same is true for the damage caused by plant closings, but too few of us recognize the warning signs. And often we don't realize that "medicine" exists to fight shutdowns.
Long before your employer issues a WARN Act notice (see the accompanying article above), there will be tell-tale signs that your workplace could be in trouble.
WARNING SIGNS
Although the circumstances of every plant closing are different, there are some things we should keep our eyes open for:
Disinvestment - Lack of equipment or building maintenance. Removal of equipment. Profits used to improve or buy other businesses.
Ownership problems - Change of ownership. No successor for an aging owner.
Declining Sales/Employment - Loss of major customers. Business doing worse than the rest of the industry, especially for three years or more.
Duplicate Capacity - Twin location with ability to make the same product. Movement of least-skilled work.
Management Instability - High turnover at manager, engineer or labor relations positions. Mysterious "consultants" appear.
Changes in Land Use - Neighboring plants being sold and converted to non-manufacturing uses.
Inadequate Research & Development - No new products. Losing ground to other companies in product design and quality.
Money Trouble - Supplies arriving COD. Lack of supplies screwing up production. Paychecks bouncing. Taxes delinquent.
And sometimes, the first warning sign is a rumor of a closure.
Right now, you're probably thinking, "Hey, that's my workplace!" Don't panic. Any of these warning signs may not necessarily signal that the end is near, but should serve as a wake up call to keep your eyes open.
STEPS TO TAKE
But let's say the writing is on the wall. Is there anything a union can do to turn a doomed operation around?
First the union leadership must make an honest assessment of the situation. Sometimes what management needs is genuine constructive criticism to get back on track. The union can be helpful in identifying where management has gone wrong, even coming up with potential new products and markets.
More often, the local must organize itself for a full-blown fight back. This usually includes organizing the membership, the community, churches and other unions to pressure the employer to keep the workplace open. Elected officials from city council members all the way up to governors and congressmen have been enlisted by UE locals to help keep jobs in a particular community, city, or state.
NEW OWNERSHIP?
When a company is determined to leave a particular location or market, UE locals have successfully attracted new, potential owners for a plant and pressured the old owners to sell and, on rare occasions, has used eminent domain (when a governmental body takes over a workplace to seek new owners or turn it over to the workers themselves) to save jobs.
All of these strategies are explored in the pamphlet Refuse to Lose: Eminent Domain and the JC Rhodes Campaign, published by the UE Education Department and available from the national office.