UE's Director of International Strategies Kari Thompson traveled to Hiroshima, Japan in early August to bring UE's commitment to peace, denuclearization, and a reduction in military spending to the 2018 World Conference Against Atomic and Hydrogen Bombs. Longtime UE ally Zenroren, a Japanese trade union confederation representing over 1.2 million workers, hosted Thompson.
"It was incredibly moving to be in the place where our government caused so much death and destruction through the unnecessary dropping of the atomic bomb in 1945," said Thompson. "I was proud to share with our Japanese allies UE's dedication to achieving peace for all workers."
The theme of this year's conference, which was attended by about 5000 people, was "A Nuclear Weapon-Free, Peaceful and Just World." Participants emphasized the progress made in this direction through the adoption of the Treaty on the Prohibition of Nuclear Weapons (TPNW) by a UN conference in July 2017. So far, fourteen countries have ratified the treaty; it will take ratification by 50 countries for the treaty to be implemented.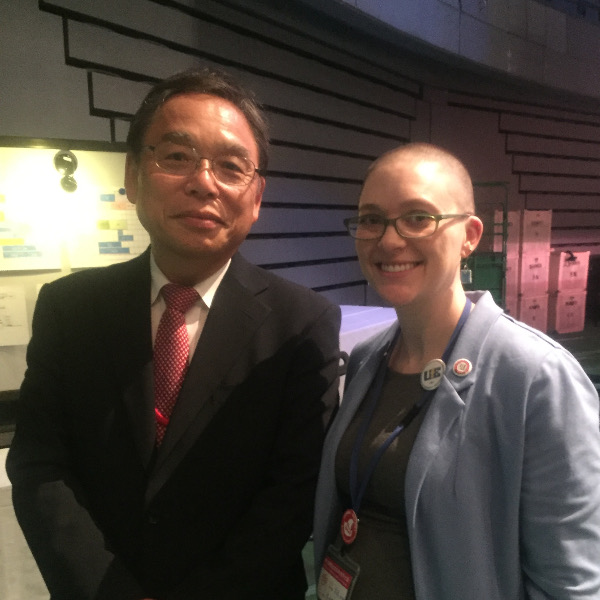 Thompson with Zenroren President
Yoshikazu Odagawa
Thompson spoke on a panel entitled "Cut back on Military Expenses to Realize a Peaceful and Decent Human Life," where she emphasized several components of UE's resolution "For Jobs, Peace and a Pro-Worker Foreign Policy," including reappropriating defense spending for healthcare, education, and infrastructure needs (see the UE NEWS feature "The Fight for Good Jobs and a Democratic Economy" for ways that redirection of military spending could be used to produce good jobs).
Thompson also noted this resolution's commitment to close all U.S. military bases in Japan. Many at the conference were greatly concerned about current proposals to expand the U.S. base in Okinawa. These plans include building military infrastructure in environmentally sensitive areas, home to endangered species like the dugong, a relative of the manatee. Another participant on the panel, Park Seok Min of the Korean Confederation of Trade Unions, remarked on South Korea's struggle to limit expansion of the U.S. military presence in his country, where hope for peace with North Korea remains high. Expanding missile infrastructure, however, runs contrary to achieving such peace.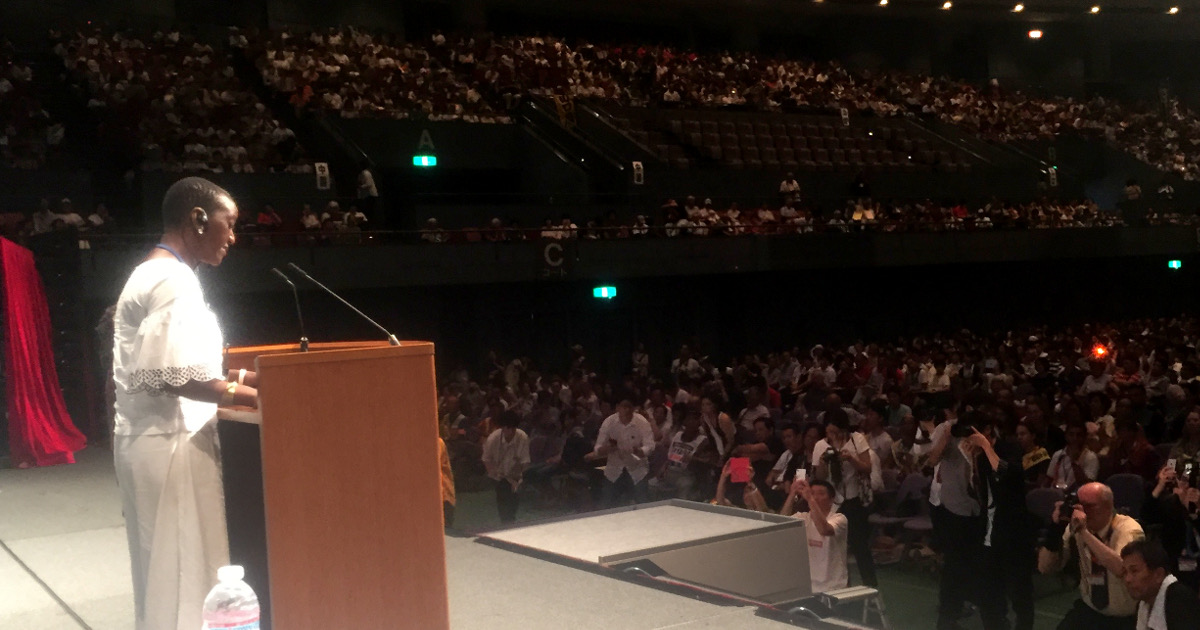 Another American participant in the conference was Karlene Griffiths Sekou, from Black Lives Matter Boston and Dignity Project International. She spoke about the exploitation of people of color for corporate profit under the guise of military necessity, and the need to end American imperialism and instead invest in our own communities. Other powerful speakers at the conference included Corazon Valdez Fabros, Secretary-General of Nuclear-Free Philippines Coalition, and Carlos Fernando Almada Lopez, Mexican Ambassador to Japan.
Thompson also participated in a lantern lighting ceremony to mark the anniversary of the bombing of Hiroshima. Participants put paper lanterns with peace messages in the river at night so that the lanterns would glow on the water. Thompson added a red lantern with the message "Peace and solidarity to all workers" on behalf of UE.
For Thompson, one of the most important aspects of her trip is the opportunities it has created for future programming for UE members. "The survivors of the bomb, known as Hibakusha, continue to tell their vivid stores of the suffering they and their families experienced because of the use of nuclear weapons. Though their numbers dwindle every year, I hope to develop opportunities for UE members to hear these stories for themselves in the coming year because I know these narratives will renew our members' commitment to peace."