UE Local 170, which represents state workers throughout West Virginia, has been working in many different ways to help their members in this time of need. "We just received our first order of 500 cloth masks, gloves, safety glasses and wipes to give out to members at the state hospital," reports Vice President Leslie Riddle. "Due to back orders this has been a difficult process at times. But we have placed orders for several more."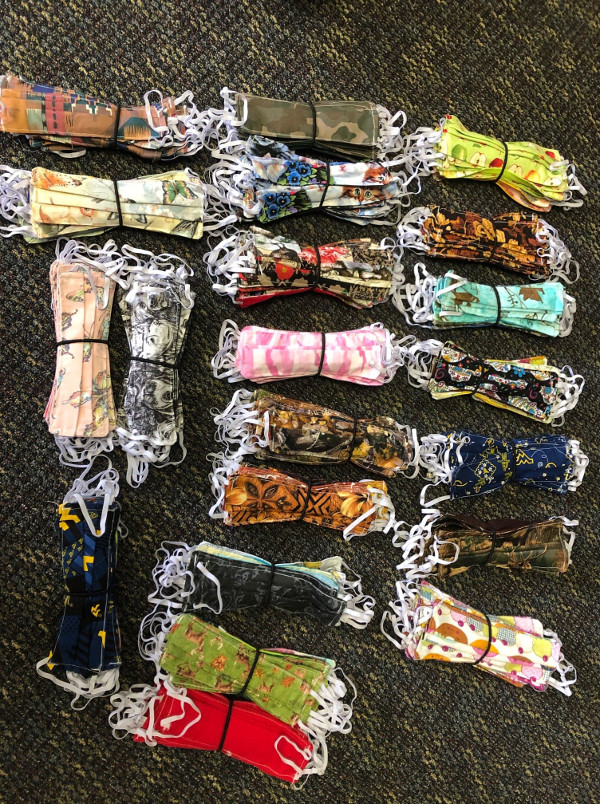 Some of the cloth masks purchased by Local 170, prepared for distribution to members.
Local 170 has also been making care boxes to send to members in locations that are in need of these items. They are also in the process of getting in touch with each chapter's food banks to make donations of food, diapers, wipes or other items that may be needed.
In mid-April, President Jamie Beaton published a guest column in the Beckley, West Virginia Register-Herald. "Ensuring safety and proper compensation for all those who work during this time is crucial," wrote Beaton. "Making proper Personal Protective Equipment (PPE) and Hazard Pay available are just part of the approach needed. On Monday, April 6, the WV Public Workers Union, UE Local 170, sent a letter to Gov. Jim Justice with common sense demands for what working people need right now. ... Since we sent the letter, the state has made improvements regarding policy enforcement, safety standards, and distribution of PPE. We appreciate the measures taken so far by our state officials."
Organizing Blitz Postponed
Local 170 was planning to have a three-day organizing blitz the week of April 29-May 1. But like most other things, it had to be postponed due to COVID-19.
"We are still working on planning the events so when the state gets up and running again, we will once again be out organizing," says Riddle. "And we have a great number to beat from the last blitz we held last fall. In three short but extremely busy days with just seven people we signed up 60 new members. We also got to have a little fun with some brothers and sisters from Locals 506 and 613 and some retired members from Local 170's retiree chapter, including a visit to Point Pleasant, WV and the mothman statue."
UE Local 170 State Convention
UE Local 170 is planning to hold their 2020 state convention on September 25-27, 2020 at Oglebay Park in Wheeling, WV. The convention will include election of officers, constitutional changes and making plans for the next year so that Local 170 can continue to grow in the future.
"Plus the great food always provided by the park," adds Riddle, "and even better friendship and teamwork that the delegates provide to make the local great."