On Monday, April 26, around thirty "apprentice teachers" at Kenyon College went on strike. The teachers, undergraduates who help teach classes in exchange for an hourly wage of just over $10, were joined the next day by more than 140 more members of the Kenyon Student Worker Organizing Committee (K-SWOC), a UE affiliate.
K-SWOC, which began organizing in the spring of 2020, has signed up over 60 percent of the undergraduate student workers at the college. K-SWOC members do a wide variety of work for the college. In addition to apprentice teachers, K-SWOC members include resident hall assistants, lifeguards, and workers at the library, film center, farm, and greenhouse. If recognized, they will become the first labor union in the U.S. to represent all undergraduate student workers on a college campus.
During the strike, which lasted two weeks, student workers received an outpouring of support from the community, in particular from faculty members and members of UE Local 712, which represents Kenyon's skilled trades maintenance workers. Despite the administration threatening to call law enforcement to intimidate striking student workers on the fourth day of the strike and supervisors starting a back-to-work movement in some workplaces, K-SWOC only ended the strike due to the conclusion of the academic year — not because they were forced back to work.
The strike came hours after the administration dismissed K-SWOC's proposal to hold a privately-administered secret ballot election to determine union recognition. Unlike most workers, undergraduate student workers cannot rely on the right to win union recognition through an National Labor Relations Board election. Although the NLRB ruled in 2016 that graduate employees at private universities are, in fact, workers, unions representing both graduate and undergraduate student workers avoided bringing any cases to the NLRB during the Trump administration, fearing that Trump's anti-worker appointees would use them as an opportunity to overrule the 2016 case.
However, with President Biden's announcement on May 26 that he will nominate labor lawyer Gwynne Wilcox to fill an empty NLRB seat, and with anti-worker board member William Emanuel's term expiring in August, the NLRB is expected to become more worker-friendly by the end of this year.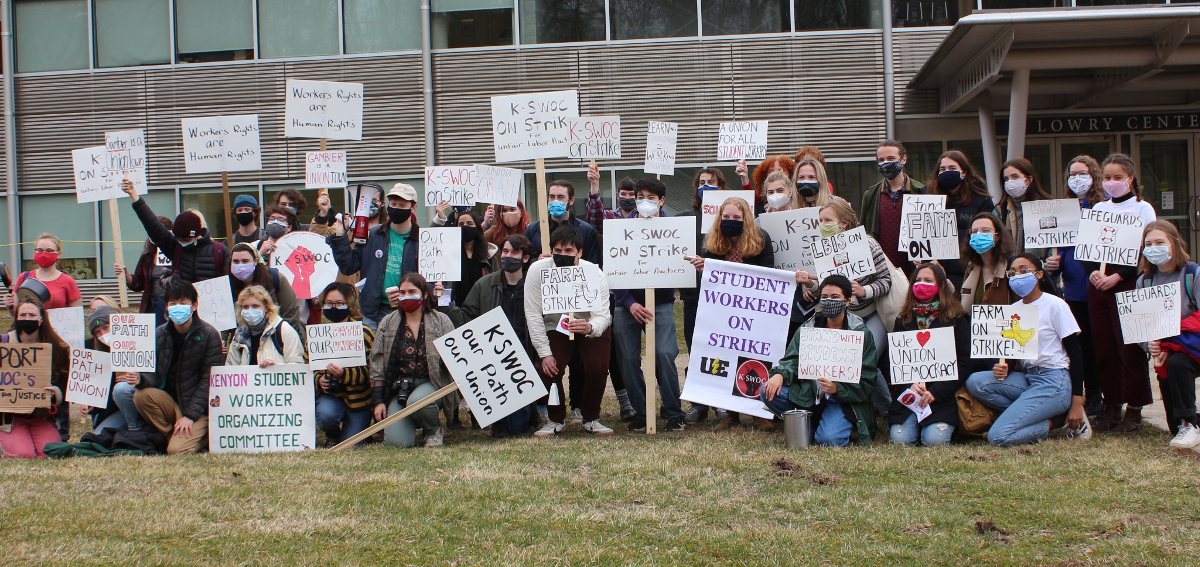 ​Photo: John Ortiz Vargas
In response to the administration's behavior during the end-of-semester strike, K-SWOC has filed multiple unfair labor practice charges against the college. Although the administration has still refused to recognize the union, K-SWOC members are looking forward to joining thousands of private undergraduate and graduate student workers across the country in organizing in their workplaces under a more friendly National Labor Relations Board.
K-SWOC members say they are ready more than ever to fight to secure their union and better lives for all student workers at Kenyon. As Michelle Hanna, a junior Arabic Language Apprentice Teacher (AT), said,
I've got every strike announcement flier, picket packet, and 'Recognise K-SWOC' poster from the past semester hanging front and center in my room back at home. When I see them I am reminded of all the incredible work we've done so far and I feel so proud of this campaign. I'm excited to continue organizing with the other leaders in my shop this summer in preparation for the upcoming NLRB election!
More: