When UE General President Carl Rosen, Director of Organization Mark Meinster, and Director of International Strategies Kari Thompson met with a high-level delegation from our Japanese ally Zenroren in June in Chicago, they presented them with a new UE publication celebrating "three decades of Japan-U.S. working-class solidarity."
The Zenroren delegation consisted of Secretary General Koichi Kurosawa, Deputy Secretary General Keisuke Fuse, Yasuko Sasamoto from Zenkyo, the All Japan Teachers' Union, and Yumi Yamamoto, a professor of education.
The 24-page, full-color "scrapbook" tells the story of UE's relationship with Zenroren in photos, clippings from the UE NEWS, and text in both English and Japanese.
As the opening sentence of the booklet notes, "Zenroren and UE are born from the same spirit of militant, class-struggle unionism." The UE NEWS reported on Zenroren's founding on November 21, 1989, and within two years then UE Director of Organization Ed Bruno traveled to Japan to participate in an international conference organized by Zenroren.
The booklet tells the story of how "For three decades, the bond between UE and Zenroren has grown stronger through exchanges, sharing of experience and analysis, support for each other's struggles and joint efforts to win justice for working people and a peaceful world."
UE's relationship with Zenroren has encompassed exchanges of information through delegations, written materials and participation in each other's gatherings; taking direct action in support of each other's struggles; a series of public-sector workers "convergences" in the late 2000s bringing together workers from the U.S., Mexico, Quebec and Japan; providing moral and material support as Zenroren members dealt with the aftermath of the 2011 earthquake and tsunami in northeast Japan; and working together to end war and eliminate the impacts of war and militarism on the working class.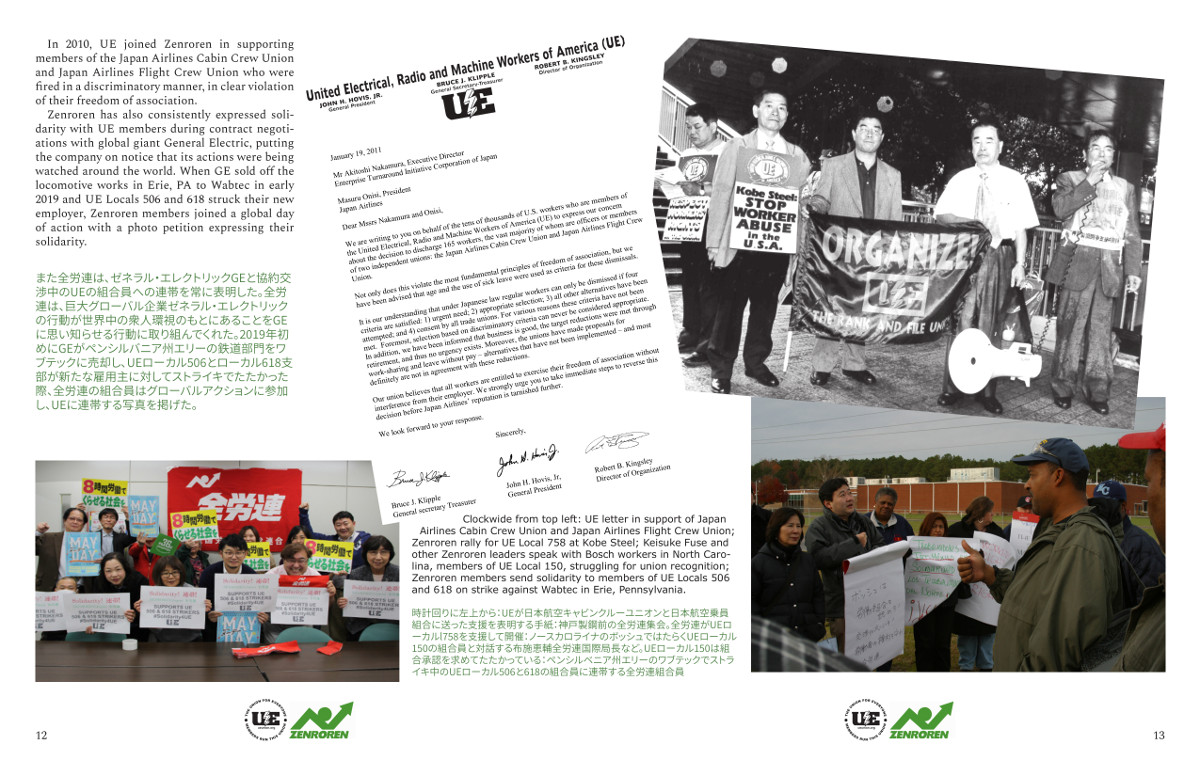 Pages from the scrapbook depicting the history of UE and Zenroren taking action to support each others' struggles.
The booklet concludes, "For more than 30 years, UE has been proud to count Zenroren as one of our closest allies. Through exchanges of information and analysis, concrete acts of solidarity, and a shared vision of militant trade unionism, we have worked together to struggle for a just, peaceful world for all working people. We look forward to continuing our relationship, and our joint struggle, for many more decades to come."