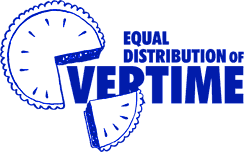 Here are some scenarios that are probably familiar to most UE Stewards:
Harlan Parrot comes up to his steward. "I have a grievance. Jim Carey is always s------ up to the boss and getting all the overtime. I thought there was supposed to be equal overtime. What are you going to do about it?" or,

Sheila approaches her steward one afternoon, "Hey, did you hear the company's asking people to work this Saturday in shipping? Pedro is still laid off from shipping. You've got to stop them from working."
Sound familiar?