A Problem Only GE Could Have


What to do with
All the Money?!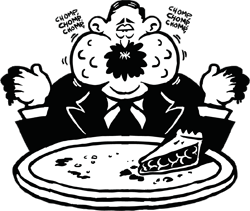 GE is on the horns of a financial dilemma which you won't recognize. While we fight the never ending battle to pay the bills, while trying to save a few bucks, GE's problem is too much cash. You read it right. GE is awash in so much cash, they are having a hard time figuring out what to do with it. A few months back, GE CEO Jeff Immelt predicted the Company would be sitting on about $25 Billion by year's end.
And that may turn out to be a lowball estimate.
Vice Chairman John Rice added that "we're looking at smart, responsible ways to use the cash".
Emerging from the global recession with this embarrassment of riches, GE has evidently decided that one smart responsible thing to do is to renew their strategy of simply gobbling up other companies and their assets. As another GE Vice President, John Krenicki recently remarked, "We're playing offense". But not to worry, since Mr. Krenicki also stated, "We're prudent with our shareholders' money."
In just the past month or so, GE ponied up $3 Billion for Dresser Industries which makes gas engines among other products, and another $580 Million for medical diagnostics company Clarient among its recent acquisitions. Moreover they have a $2 Billion bid in to acquire the aerospace unit of BAE Systems, with final bids expected this month. GE's $1.2 Billion bid for the British oil and gas pipeline supplier, Wellstream Holdings, was rejected by that company, but GE has given no indication that it has given up on this morsel either. More major acquisition announcements are expected by year's end.
Lest anyone think that GE has learned its lesson from its long love affair with GE Capital and the losses it took following the collapse of the credit and housing markets and the resulting worldwide recession, think again. In October, GE announced it had bought Citigroup's $1.6 Billion portfolio of retail credit card assets. While the price was not divulged, it's believed GE paid half a Billion or so. Evidently, GE thinks it's a better debt collector than Citigroup.
STOCK BUYBACK
GE's renewed spending spree on acquisitions is not the only way they're getting rid of money. Among what they call their "investor friendly" moves is to resume the buyback of their own stock! This strategy, which came into vogue back in the 1980's, does absolutely nothing to build any company that engages in it, but is done simply in an attempt to try and pump up the stock price.
GE suspended its stock buyback program in 2008, but the spigot has been turned on again. So far this year, they've spent about $900 million on this maneuver, but much more is likely to come, since they are now authorized to buy a total of over $11 Billion worth of GE shares through 2013 by the Board of Directors.
And finally, as you probably know, GE also announced an increase in the dividend back in July. Mr. Immelt is now saying that if GE can't find enough good acquisition deals, it will mean even more stock buybacks and dividend increases.
So there you have the heart of GE's strategy to get rid of its excess cash:
1. Buy up other companies
2. Buy up GE stock
3. Increase stock dividends
THE MISSING PIECE
It seems to us, however, that something is missing. Where do GE employees fit in to all this money laying around? One thing is for sure, better wages and benefits for GE workers to be negotiated in next year's National Contract negotiations does not seem to be prominent on the Company's radar screen. On the contrary, GE has already imposed its awful Health Choice medical plan on exempt salaried employees and clearly wants to stick it to the rest of us as well.
But there can be no doubt that GE can well afford substantial IMPROVEMENTS in our wages, pensions, medical coverage, and more. We think of no more "smart and responsible" thing to do than for GE to give a fair share of all the wealth it has lying around to those that created it in the first place - GE employees!