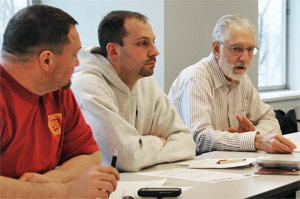 UE-GE Conference Board meets in Pittsburgh: UE Genl. Pres. John Hovis (at right) advises the UE-GE Conference Board meeting on March 25 that baregaining will be tough this year. Delegates expressed determination to win contract improvements, despite the tough climate. Also in this photo:from left, are Steve Hyzer and Greg Engel, both from UE Local 506. (Ron Flowers photo).

Pittsburgh, PA
March 25, 2011
At its meeting here on March 25, the UE-GE Conference Board, adopted a wide ranging bargaining program for upcoming National Contract negotiations with General Electric, which are scheduled to begin on May 24 in New York City. Delegates expressed determination to achieve contract gains in the upcoming negotiations despite GE's appetite for concessions.
Proposals included pension increases for active employees and retirees, more paid time off, general wage and cost-of-living increases, improved medical insurance, and enhanced job and income security provisions, including renewal of the Special Early Retirement Option (SERO), and SERO window provisions. The proposals will be finalized soon, and sent to the locals for membership ratification.
Delegates also expressed their determination to resist expected attacks by GE, particularly in the areas of medical insurance and pensions.
GE Fails to Sell High Deductible Plan
Local 332 Business Agent Angel Sardina reported that company representatives had met with the local leadership in an effort to soften them up on the health care issue while promoting their high-deductible "Health Choice" plan.
Sardina noted that not only had GE failed to convince anyone to buy their pig-in-a-poke medical plan, but that the Local was engaged in membership education and mobilization efforts to defend the benefits negotiated by the union over many years. His sentiments opposing GE's concessionary proposals were seconded by Local 506 Business Agent Wayne Burnett, who chaired the meeting.
Rally: June 4th
Newly elected Local 506 President Roger Zaczyk reported that preparations for a big contract support rally to be held at noon on Saturday, June 4 in Erie are well underway. (Further details will be forthcoming). The Coordinated Bargaining Committee of GE Unions (CBC) steering committee recommended Erie as the sight for the major rally based on the local's outstanding record of large and successful actions in the past. Local 506, as well as Local 618, which represents Erie GE non-exempt salaried workers, were happy to oblige.
Zaczyk also reported good news on the employment front in Erie, with everyone on the recall list back to work, and about 100 additional jobs to be filled.
Retirees Ready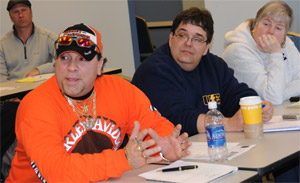 UE Local 332 Busines Agent Angel Sardina makes a point as UE Local 332 Pres. Scott Gates (center), UE Local 618 Pres. Mary Stewart, UE Local 618 (right) and Ed Stitts from UE Local 707 (next row) listen. Ron Flowers photo.
Ron Flowers, chairman of Erie R.A.G.E. (Retirees Association of General Electric) reported on a meeting of representatives of GE retirees' groups from across the country in Philadelphia on March 16. Buses have been authorized from over half a dozen of the larger GE locations to transport retirees to the June 4 rally. There will also be a presence of union retirees at GE's annual stockholders meeting in April in Salt Lake City, Utah.
UE General President John Hovis reported on the negotiations schedule and arrangements, noting that the bargaining promises to be among the most difficult in his long tenure with the union.
Membership Preparing
Conference Board Secretary Steve Tormey noted that in addition to Health Choice, GE's Focus newsletters, mailed to employees' homes have eliminated all doubt that GE will attempt to extend the ban on new hires' participation in the pension plan, to hourly employees. GE has denied participation in the pension plan to exempt salaried new hires since January 1 of this year. Tormey noted that this would severely jeopardize the continued existence of the Pension Plan in years to come for everybody.
Delegates left the meeting fully committed to take on the job of preparing and activating the union's GE membership to achieve a new National Contract that will take us forward, and properly reward and recognize those who work for the immensely profitable General Electric Company.