When 1700 UE members, members of Locals 506 and 618, went on strike for nine days in the bitterly cold Erie winter, they weren't just fighting for themselves. They were fighting for the future of their community.
On February 25, Wabtec Corporation took over operations of the Erie locomotive plant from General Electric, and immediately demanded a laundry list of concessions, including a two-tier wage structure — that new hires would come in at permanently lower wages, as much as 38 percent lower than what current UE members make.
In this multi-generational plant, where many workers have parents and grandparents who worked for GE, selling out the next generation with a permanent second tier was unacceptable. As banners hung in the Local 506 hall proclaim, "Selling out new hires is not negotiating—it is CANNIBALISM" and "One Union, One Tier."
If Wabtec thought UE members were going to roll over and take their concessions, they were badly mistaken. UE members in Erie were ready to stand up against corporate greed. On February 26, with the company unwilling to maintain the existing terms while negotiating a new contract, 1700 workers hit the picket lines.
Local 506 President Scott Slawson said, "It's important to understand that UE members who came before us fought long and hard for the wages, benefits and conditions we have the privilege of working under today. It would be an injustice to their memory if we didn't fight for our own children and future generations of Erie workers."
No Two Tier, No Forced Overtime
Wabtec's concession demands weren't limited to two tiers. The "terms and conditions" that the company imposed on the first day also included forced overtime, combination of job codes, an unworkable grievance procedure, and the ability to use temporary workers for up to 20 percent of the work in the plant.
Local 506 and 618 members have a proud tradition of being active in their community, and value time with their families. They are assistant pastors and church secretaries, little-league coaches and food-shelf volunteers, and take care of children, grandchildren, parents and other relatives. Roger Ratcliff, a Local 506 member who is a youth pastor and Sunday school teacher, said "I work with teenagers and young adults, and making it mandatory for me to work on Sunday would just totally cut me out of their lives."
Also of concern to UE members was Wabtec's proposal to not only lower pay rates, but combine job codes — which could lead to people doing jobs for which they aren't qualified. "It's a heavy duty, serious-consequences-if-you-mess-up line of work," powerhouse electrician and Local 506 member Brad McCurdy told the UE NEWS. "If we make a mistake, if we get something wrong … on a good day, maybe we're just having a building go dark; on a bad day, we don't go home. It's that serious."
A Legacy of Corporate Greed
When Wabtec purchased GE Transportation in 2018, members of Locals 506 and 618 expressed optimism that the Pennsylvania-based company would take a different path than the business model GE had been pursuing for over a decade.
In 2013 GE opened a new, non-union facility in Fort Worth, Texas to manufacture locomotives. Although the company initially promised that the Fort Worth plant would only be for "overflow" work, it wasn't long until the company began using the "competitive" (i.e., low) wages it paid workers in Texas to demand concessions from Erie workers. With each transfer of work from Erie to Fort Worth, the company made vague promises that if the union accepted lower wages and other concessions, they would keep work in Erie. Locals 506 and 618 refused to accept concessions, arguing that the company would move work regardless, and that UE members shouldn't pay for the move out of their own wages.
For much of the past decades, GE's business model of moving work to low-wage and non-union plants and demanding concessions from union workers was widely admired in the corporate and political world. GE executives were fawned over by the press, and by Democratic and Republican politicians alike.
Despite the company's propaganda, this business model has turned out to be a failure, for both the company and the country. The low wages paid at the Fort Worth facility have made it hard to recruit and retain skilled workers, and work done in Forth Worth is regularly shipped to Erie to be repaired by UE members. GE's stock prices have plummeted in recent years, and the company sold off GE Transportation — thanks to the Erie plant, one of its most profitable divisions — in part because it desperately needed an infusion of cash.
The UE Steward System Proves Itself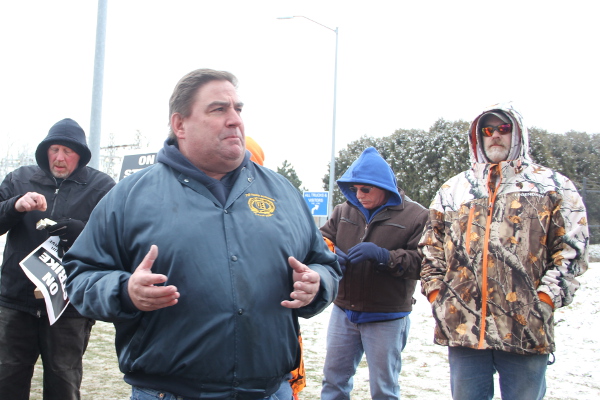 ​Local 506 Chief Plant Steward
Leo Grzegorzewski
talking to UE members on the picket line
When negotiations with the company broke down at 2:30 in the morning, Local 506's system of 107 stewards got the word out to all 1700 members and by 5am the plant was locked down tight.
"The first day was emotional," said Slawson, describing feeling in the early morning that the negotiators had failed "1700 of our family, and their families. But when you come in two hours later and see a plant that's completely surrounded with picketers ... you realize it wasn't a failure, it was a success."
Stewards quickly transitioned to serving as picket captains, and the local executive board set up the infrastructure to make sure the picket lines were solid, the community was informed of the issues, and union members would be fed during the duration of the strike. Pittsburgh Post-Gazette reporter Daniel Moore reported on the first day of the strike:
In Lawrence Park on Tuesday, there were signs the union was digging in for a long fight. In the union hall, the so-called "strike machinery" — committees overseeing food, outreach, publicity, picket lines and other operations — was in full force.
"I cannot stress for you how important a strong and vibrant steward system" was to the success of this strike, said UE Director of Organization Gene Elk.
"For the Jobs Our Communities Deserve"
UE picket signs read "On Strike for the Jobs Our Communities Deserve," and people in Erie clearly understood how important this struggle was for the whole community.
"Our community was absolutely amazing," said Slawson. "Other unions reached out, and everyday citizens would swing by McDonalds, buy 100 cheeseburgers and bring them by the line." The local Polish club provided 600 pieces of chicken. So much food was donated to the strike kitchen that the local unions were able to pass along extra to local food pantries.
Members of other unions and organizations were regular visitors to the picket lines. On Saturday March 2, the teachers' union and others organized a community rally at the lines — welcome support after Wabtec filed for a court injunction to limit mass picketing the day before. The commander of the local American Legion post wrote a public letter in support of UE members' struggle.
The Erie community supported UE because UE has a long history of supporting the Erie community. UE members volunteer in a wide variety of community organizations, and raise money for numerous causes. The Sunday before the strike, Local 506 held its annual "Hometown Heroes" bowling tournament to raise money for veterans. Local 506 Sports Committee Chair Matt McCracken told Erie News Now, "Seventeen years, we've raised so far $336,000 for the Erie VA Hospital, money that we would not be able to raise if we were at work right now. If Wabtec had its way, I'd be at work right now."
That solidarity with the community did not stop even when UE members were on the picket lines. When an apartment building near the Local 506 union hall caught fire during the strike, the local unhesitatingly opened its hall to provide shelter for the victims.
Community support was evident in local social media as well. Local 506 produced a series of "UE Is Me" memes, highlighting the many roles that UE members play in the Erie community (search Facebook for the hashtag #UEisME). Local author and blogger CJ Zahner wrote a series of impassioned and popular blog posts about the struggle. Local teacher Jonathan Burdick, who runs the history project Rust and Dirt, wrote a feature for the Erie Reader placing the strike in context of the history of labor struggles in Erie over the past century.
"Making a National Issue of This Strike"
The strike — the largest in U.S. manufacturing in over three years — quickly made national and international headlines. CNN, the Wall Street Journal and the Associated Press all covered the strike in its first days.
Longtime UE ally Senator Bernie Sanders (I-VT) lent his support to Locals 506 and 618 early. Sander wrote a letter to Wabtec's CEO the week before Wabtec took over the plant, urging the company to maintain the existing terms and conditions that UE members had fought for over eight decades. He praised Erie UE members for standing up to corporate greed in his CNN Town Hall meeting the night before the strike. As journalist John Nichols reported in The Nation, "Bernie Sanders is Making a National Issue of This Strike."
When Sanders launched his presidential campaign on March 2, he invited Slawson to address the launch rally in Brooklyn. Sanders' support for the UE strikers "has given our fight national attention," Slawson said. "The Senator has embraced our community and our local. You are our brother, Senator Sanders, and we thank you from the bottom of our hearts." (Watch video of Slawson's speech here)
When Slawson announced that "today 1700 families are standing on a picket line in freezing cold temperatures in Erie, Pennsylvania saying 'we're had enough!'" the large, boisterous crowd began chanting "Strike! Strike! Strike!"
Describing Wabtec's demand for two-tier wages, Slawson told the crowd how generations of UE members had struggled and sacrificed to make GE Transportation jobs into good jobs. "We're not going to throw that away for our children and the generations of the future just so a greedy corporation and its shareholders can take more."
Slawson also spoke about how UE is proud to stand up against forced overtime, to defend union members' freedom to spend time outside of work with their families and contributing to their community. He declared, "40 hours is enough for the employer to control your lives!"
"We are fighting for every worker's right to family-sustaining wages, good pay, decent benefits and solid work protections for all," Slawson concluded. "It's time for men and women to make a stand, and with the help of our community, politicians like Bernie Sanders, and the great people here today, we are making that stand! We will bring unions back to America, we will bring justice back to America, we will make the American workers proud again!"
Support from Paris to Pittsburgh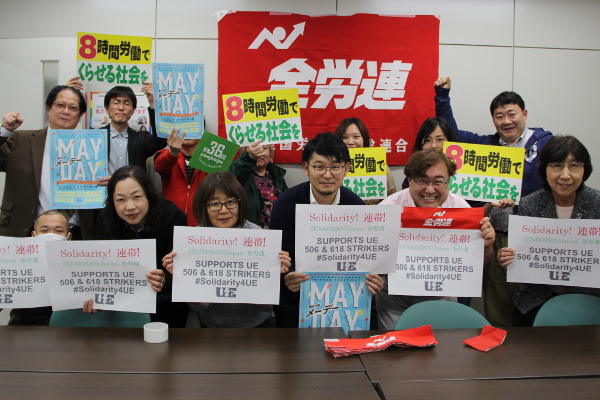 #Solidarity4UE photo sent by Zenroren, which represents 1.5 million Japanese workers. For more solidarity photos, search the hashtag #Solidarity4UE on
Facebook
and
Twitter
UE members in Erie also received international support. Unions representing hundreds of thousands of workers in Canada, Great Britain, Italy, France, Brazil, Mexico and Turkey — all countries in which Wabtec has operations — wrote letters to Wabtec's CEO before the strike expressing solidarity with UE, as did the global union federation IndustriALL, which represents 50 million manufacturing workers around the world.
On March 6, UE locals from across the country, and unions and working people from around the world, joined an international #Solidarity4UE day of action on social media.
Also on March 6, UE Local 610, which represents Wabtec workers at the company's Pittsburgh-area plants in Wilmerding and Greensburg, hosted a solidarity rally at corporate headquarters in Wilmerding. A busload of Local 506 and 618 members from Erie joined members of Locals 610 and 667, other Pittsburgh-area unions, and community supporters to demand that Wabtec withdraw its demands for concessions and bargain with Locals 506 and 618.
"This is all about corporate greed," UE General President Peter Knowlton told the rally. "This is about a company trying to get concessions from a local it has not been able to get concessions from for 20 years. We're not gonna start now just because their name is GE-Wabtec instead of GE."
Local 610 Assistant Chief Steward Jeff Kohler called the rally an "energetic and beautiful moment. I was definitely proud to be a UE member."
Late that night, Locals 506 and 618 reached 90-day interim agreement with the company to end the strike, with no two-tier wages, no forced overtime and no use of temporary workers.
The Future of American Manufacturing
Following the settlement of the strike, Moshe Zvi Marvit and Andrew Stettner, fellows at The Century Foundation, published an op-ed about the strike in the New York Times titled "Is There a Future for Good Manufacturing Jobs in the U.S.?" They concluded that
Without strong unions and the decent wages they fight for, factories will not be able to find the millions of skilled workers they need to maintain the momentum of the American manufacturing resurgence.
Marvit and Stettner warn that Wabtec's demands for concessions will hurt not only Erie workers, but the American economy more broadly. "By proposing to lower future workers' pay, companies like Wabtec may halt a broader manufacturing resurgence," they wrote. In contrast to Wabtec's short-sighted pursuit of low wages, "[t]he unions are offering Wabtec and the rest of manufacturing a different and more promising path: Rebuild the wage premium in manufacturing as a way to retain and attract the next generation of skilled manufacturing workers."
The Erie locomotive plant is exactly the kind of high-value-added, high-wage manufacturing facility that Marvit and Stettner hail as the future of American manufacturing. GE Transportation consistently earned profits of over 16 percent for the last five years, driven by the skilled work done by UE members in Erie. The members of Locals 506 and 618 are fighting not just for their own community, but for every community that depends on manufacturing jobs.
The Struggle Continues
Locals 506 and 618 are still negotiating with Wabtec for a new contract, but the company continues to insist on new starting rates as low as $17 per hour, use of temporary workers, and other concessions. The interim agreement expires on June 3.
Local 610's contract with Wabtec expired on May 1 and, facing a united membership who had authorized a strike, the company settled a contract that includes no concessions and significant improvements.
UE members in Erie, with the support they received from their community and across the country and the world, remain ready to stand up against corporate greed. "You can feel that there's a new movement happening" in the country, Local 618 Business Agent Janet Gray told the UE Eastern Region council meeting in April.
For the latest on negotiations with Wabtec, visit UE Local 506's website and Facebook Page.
Many UE staff assisted with the preparation and conduct of the strike: International Representatives Mark Meinster and Karen Hardin and Field Organizers Abbie Curtis, John Ocampo, Lyndsey O'Day, George Waksmunski and Ben Wilson all assisted on the ground in Erie. Communications Director Jonathan Kissam helped with the press and messaging, and Director of International Strategies Kari Thompson arranged much of the international solidarity. International Representative John Thompson, UE General President Peter Knowlton, and UE Director of Organization Gene Elk assisted with both negotiations and the strike.