Workers at the Willy Street Co-op, who voted to join UE by a wide margin in September, ratified their first UE contract in March. The new contract addresses all of the issues in their organizing program, including getting rid of a widely-hated attendance policy and making progress towards a living wage. The more than 300 workers work in three stores around Madison, as well as an off-site kitchen and a central office.
Willy Street workers began organizing in 2019 after management implemented a new attendance policy that was harsher than that of Whole Foods (a corporate competitor in the natural-foods market). In addition, despite a 2017 promise that the Co-op would move towards paying a "livable wage" within two to three years, in 2019 the starting wage rate was cut from $12.40 to $12.10 per hour.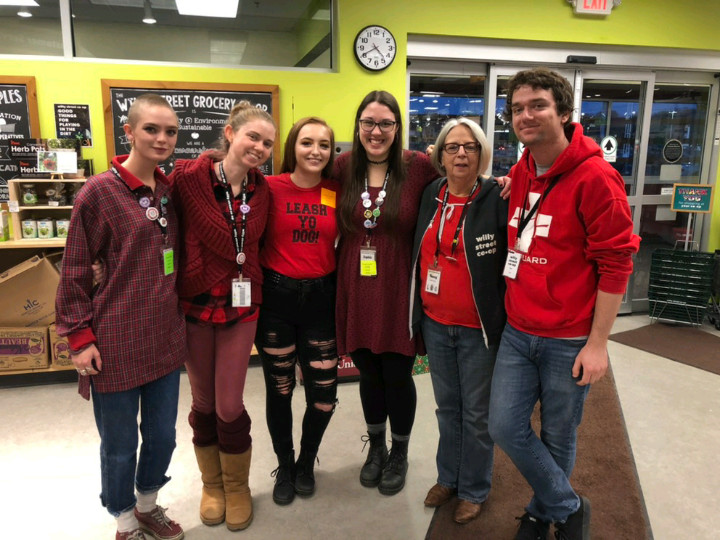 Co-op workers demonstrate support for the Local 1186 bargaining committee by wearing stickers at work.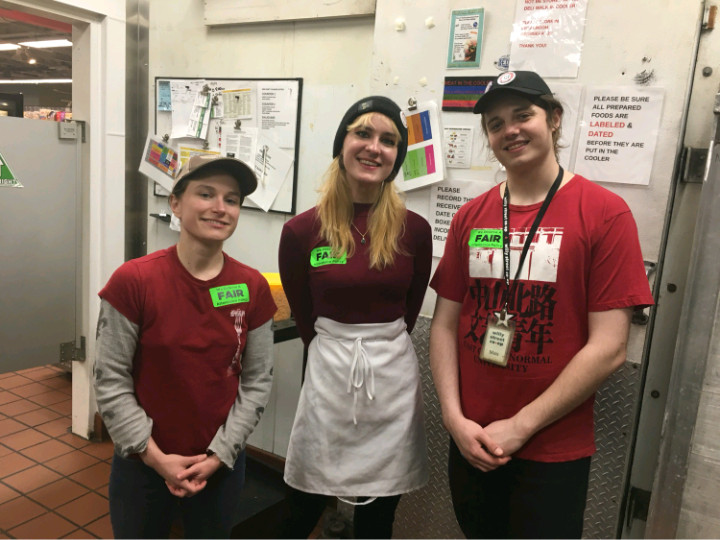 Going into negotiations, new UE Local 1186 maintained the unity they had built during the organizing campaign, and demonstrated that unity by wearing stickers in the stores — visible to customers — demanding "No one should have to work sick." In a flier distributed to customers, workers shared their stories of being disciplined for circumstances beyond their control, including getting sick at work, stopping to offer assistance after witnessing a car accident, and being the victim of a break-in.
Customers — many of them owners of the co-op — called and emailed management, filled out customer-comment cards, and contacted the co-op's governing board in support of the workers' demands. At the board meeting in January, 40 owners/customers packed the co-op board meeting to speak out against the attendance policy and management's lack of interest in taking workers' concerns seriously. Together with the unity displayed by workers in the shop, this pressure convinced management to agree to a new attendance policy in mid-January. The new policy, which went into effect 30 days after it was negotiated, scrapped the point system, gave workers 80 hours of sick time per year (provided up-front), and established a five-minute grace period.
"The moment that we got the attendance policy was monumental," said negotiating committee member Demeter "Demi" Brock-Montgomery. "That was a large driving force behind why we unionized. Once we nailed it down and we got that there was a huge wave of relief" in the shop.
As negotiations turned to wages, co-op management claimed there was no money for raises. Once again, members wore stickers in the stores demanding fair wages, and letting the public know what they were making. They organized marches on the boss in each of the five workplaces. And they again reached out to co-op owners, who had formed a solidarity committee to support the workers.
After the union pointed out that the co-op had spent millions remodeling, expanding, and opening up a new store, and that managers had received double-digit pay increases, management came up with money to increase the starting wages. However, they claimed there was no money for veteran workers.
Workers continued to wear stickers in the stores, and the Owners' Solidarity Committee distributed leaflets in support of the workers' demands outside the stores. On the last day of bargaining, money suddenly became available, and every worker will receive a wage increase of at least 45 cents each year of the new two-year contract. Wage increases in year one will average $.50/hour, and wage increases in year two will average $.64/hour.
The contract establishes a new wage scale with minimum wage rates for all positions. This will provide increases for about 140 workers in the first year of the contract and about 220 in the second year who are currently paid less than these minimum rates. The current lowest starting rate of $12.10 will increase to $13.80 by the beginning of the second year of the contract — a 14 percent increase.
In addition to the new attendance policy and wages, the contract protects workers' existing benefits by requiring management to negotiate any changes to medical and dental insurance, and speeds up the progression of vacation. Bereavement leave was increased to five days for immediate family, plus an unpaid bereavement day that can be used for a loved one who does not fit traditional definitions of family.
The contract provides new protections against schedule changes and gives employees a stronger voice in the scheduling process. "Clopenings," when a worker is required to close the store and then open the store the next morning, are eliminated. Workers cannot be required to work more than five days in a row. 
The contract also establishes a solid grievance procedure and extensive rights for union activity, including recognizing an unlimited number of stewards and their right to investigate and process grievances on work time. The union has the right to use bulletin boards without censorship by management, to union leave so stewards, members and officers can participate in trainings and other union activities, and to 15 minutes at the end of each new hire orientation.
The Local 1186 negotiating committee consisted of Brock-Montgomery, Angelica Engel, David Droster, Thayer Reed, Korey Peterson, Patrick McCauley, and Michael Tomaloff. Alternate members who attended at least one bargaining session were Francis Derousseau, Holly Schaefer, and Jen Barnes. They were assisted by International Representative Mark Meinster and Field Organizer John Ocampo.