Meeting in-person for the first time since January of 2020, UE's General Executive Board convened in Pittsburgh from September 14-16 to review the union's work and the economic and political situation facing working people.
For most members of the GEB, it was their first visit to UE's new national office in the House Building on the south side of downtown Pittsburgh. The union moved its national headquarters in the summer of 2020; the move has cut the national union's rent nearly in half.
"A lot of workers right now are looking for a union like UE"
In his report, Director of Organization Mark Meinster said that "we're in a very intense period" for the working class, with a significant increase in both new union organizing and strikes. "We're seeing workers organizing in numbers we haven't seen in a number of decades or longer, [and] strikes are on an uptick."
UE is contributing to this worker upsurge in a variety of ways, Meinster said. "We're very focused on winning first contracts" for the thousands of workers who have joined UE over the past year and a half, but the union is also pursuing "several new organizing campaigns that are very large."
Meinster reviewed the first-contract struggles at the Refresco bottling plant in New Jersey and at three universities where UE is bargaining first contracts for thousands of graduate workers: the Massachusetts Institute of Technology, the University of New Mexico, and New Mexico State University. He also reviewed the successful strike by members of the Indiana Grad Workers Coalition-UE at Indiana University, and the significant improvement for graduate workers that the administration implemented in its wake.
At Planned Parenthood of Western Pennsylvania, Local 696 continues to be locked in a difficult first-contract fight, Meinster said, but has seen some concrete movement at the table since the 30-person local organized a rally of 150 members and supporters at the end of July. "It seems like public pressure has been working," he said, noting that the local has won support from the Pittsburgh Mayor Ed Gainey.
He also reviewed the struggle of 120 workers at Hudson Legal, where "we have been fighting since last summer to get to the bargaining table," and where an unscrupulous employer has been "using our broken legal system to keep themselves unaccountable."
The union is also involved in organizing campaigns among graduate workers at numerous major universities, totaling upwards of 20,000 workers. Working together through what they call the "Graduate Worker Organizing Committee," or GWOC, these workers have developed what Meinster called an "interesting and effective" model for organizing large numbers of workers across an entire industry. Leaders from the different campaigns, as well as from existing UE locals at Iowa, MIT and the two New Mexico universities, get together regularly on Zoom to support each other, communicate over the messaging platform Slack, and assist each other's campaigns.
It's a model that, Meinster suggested, is applicable to other sectors. He said that in the current moment "a lot of workers right now are looking for a union like UE," and that UE, which has never given up its right to challenge management on any issue, is especially attractive to workers who are organizing because they "want the employer they work for to be accountable."
"Make government help people, not corporations"
UE Education Director Kari Thompson led GEB members in a new UE workshop, "Inflation: Why it's here and how to fix it without losing jobs." Thompson opened the workshop by noting that "the current economic moment is confusing — some aspects are good for workers and others are tough."
The good aspects were clear as several members reported that the leverage of what economists call a "strong labor market," with employers having trouble hiring new workers, enabled them to win some of the best contracts they have ever seen. On the other hand, every member of the board reported paying outrageous prices for food and other necessities.
Thompson reviewed some of the myths about the current economy, such as that inflation is being caused by wage increases, or by people having "too much money" — when she asked the board, "Do any of you feel like you have too much money right now?" no one raised their hand. Instead, she explained, the current inflation is being caused primarily by supply chain issues, along with corporate profiteering. Those supply chain issues stem from the pandemic, the war in Ukraine, climate change, and employer's own insistence over the past decades on "streamlining" their operations by laying off workers and moving to "just-in-time" production.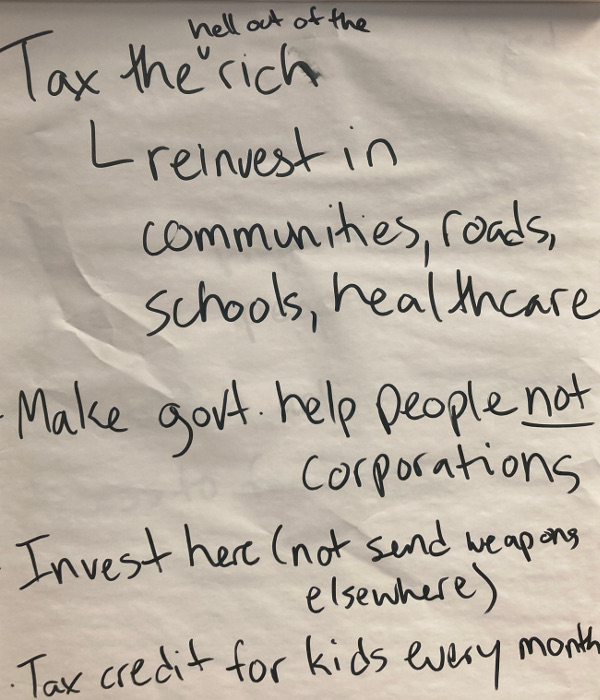 Some of the suggestions GEB members had for tackling the cost-of-living crisis.
Wall Street and corporate politicians are pushing for the Federal Reserve Board (our country's central bank, which effectively sets interest rates) to "fight inflation" by raising interest rates — but this will do more harm than good for working people, Thompson explained. High interest rates benefit primarily the banks and the wealthiest "one percent," while making it more expensive for working people to buy a car or a home, and worst of all, run the risk of throwing the economy into a recession.
GEB members shared other measures the government could take to ease the cost-of-living crisis facing working people. Antwon Gibson, Local 610, proposed reinvesting in communities and schools. Margaret Dabrowski, Local 222, emphasized that the real role of government is to help people. Mike Tomaloff, Local 1186, spoke about the importance of cooperation and mutual aid among working people, and Western Region President Bryan Martindale suggested enforcing the anti-monopoly laws. Granting documentation and a road to citizenship for the millions of undocumented immigrants in the country "would help this economy tremendously" added Jessica Van Eman, Local 1477.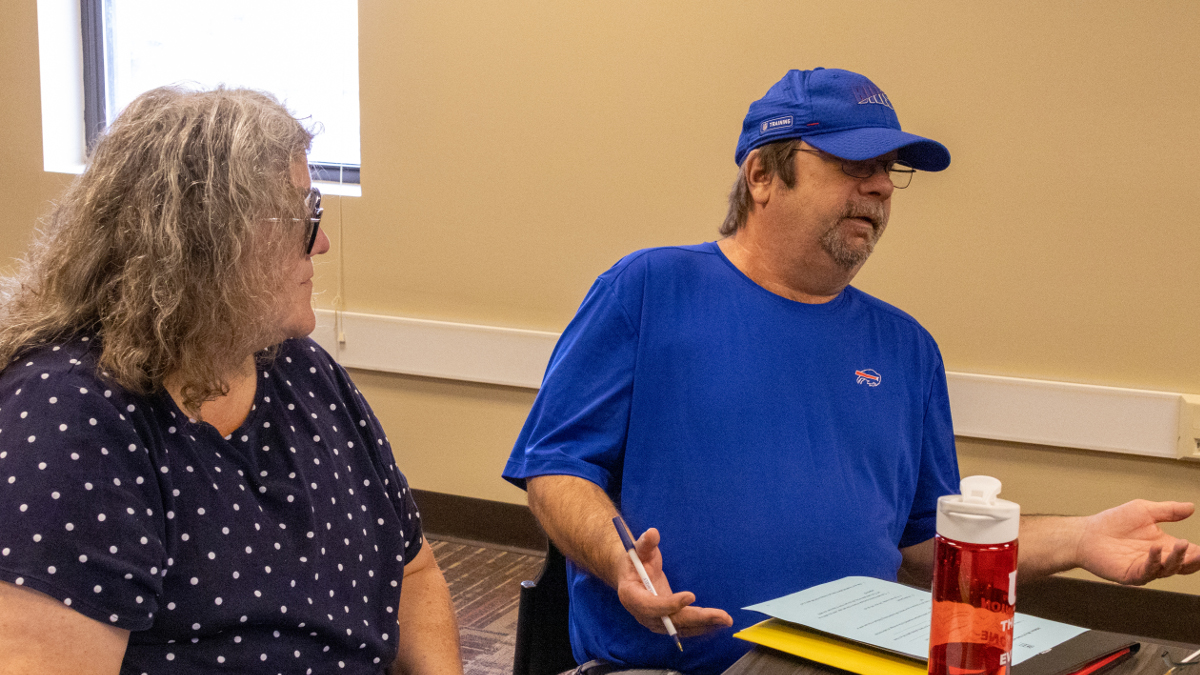 GEB members discuss the economy. Above: Margaret Dabrowski, Local 222 and Bud Decker, Local 329. Below (left to right): Eastern Region President George Waksmunski, Antwon Gibson, Local 610, Jessica Van Eman, Local 1477, and Mike Tomaloff, Local 1186.
Defending Workers' Interests in a Rigged System
Unfortunately, getting the government to actually implement any pro-worker policies to deal with inflation runs into the problem of corporate control of both major political parties, a subject to which GEB members also turned their attention during the meeting.
After vigorous discussion and some editing, the board unanimously passed a statement that attempts to answer the question "What actions must [working people] take to defend our interests?" in the current political environment.
Entitled "Defending Workers' Interests in a Rigged System," the statement recognizes that "we are prevented from exercising democratic control over our society and economy by a corrupt two-party system that is fueled by corporate cash, and enabled by divisions among working people and increasing cynicism about democracy itself."
The statement details how, on the one hand, "the Democratic Party establishment … has proved itself willing to go to any length" to defeat pro-worker politicians such as Bernie Sanders and Summer Lee who run on its ballot line, and on the other hand, "the Republican Party is moving further and further down the path of extremism and blatant contempt for democracy."
While discussing the statement, Western Region President Bryan Martindale emphasized that effective political action for working people demands more than just voting. "Voting is the right thing to do, voting for the right people is the right thing to do," he said, but "If we want to get what we deserve, we have to get in the street to demand it. That's the only thing that works in this country."
"The only way change is really going to come is national strikes," added Margaret Dabrowski, Local 222.
Eastern Region President George Waksmunski said the statement was "a fair assessment of where we are" and "clearly shows that we're not in bed with either one of these parties."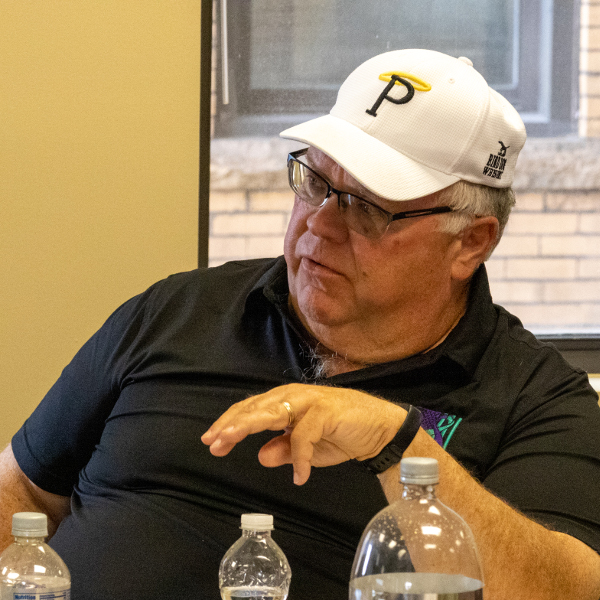 Jim Borowski, Local 106.
Jim Borowski, Local 106, pointed out that both political parties engage in gerrymandering, and General Secretary-Treasurer Andrew Dinkelaker blasted the "normalization of dirty tricks in politics that both parties participate in," particularly the Democratic Party's efforts to prop up the most extreme elements in the Republican Party, under the belief that they will be easier opponents to beat. "Who gets shortchanged in that is the workers, the people," he said, as candidates no longer run on how their own programs will help working people, but only on how extreme their opponents are.
Nonetheless, the statement concludes that "While direct action and forming our own political party are the only long-term solutions for working people, we cannot ignore electoral politics in the short term, including the federal, state and local elections taking place this November," and points out that "As distasteful as it is to vote for corporate Democrats, in many if not most races they are the only viable candidates opposing extremist Republicans. … In effect, democracy itself is on the ballot in November, and working people must show up at the polls to defend it."
Developing Leaders, Building Union Power
The board also reviewed two important educational programs implemented by the union over the past year.
The Leadership and Staff Development Program, endorsed by the last UE convention and begun in December, is a year-long development program for UE members from all racial and ethnic backgrounds who are currently underrepresented in UE leadership or on UE staff. Secretary-Treasurer Dinkelaker reported that the first group of LSDP participants, who began meeting last October, would be having their final meeting soon, and that the National Union would begin recruiting for a second group of participants in October. LSDP participants Antwon Gibson, Local 610, Larry Hopkins, Local 1177, and Delores Phillips, Local 1118, all offered their thoughts on the program.
"It was nice to be in a group where you could pull a little bit from everybody," said Phillips, noting that the experience "brought my skills up a little bit more." Hopkins said "It's going to give me insight to go back and share the experiences of what I learned."
Director of Organization Mark Meinster gave the board an update on Building Union Power, UE's new four-part workshop series, which concluded its second session on the Wednesday night of the GEB meeting. The more than four dozen rank-and-file participants come "from a really nice variety of locals," he reported. GEB member Leslie Riddle, Local 170, who was one of the participants, said that "The feedback's been very good," and that the previous night's session "was definitely something that needs to come back to my local."
"The goal here is to build more fights" in UE shops, Meinster said. He also noted that "The nice thing about the four-part series is that it gives people a chance to get to know each other across locals."
"We think it's going to be a good addition to our education programs."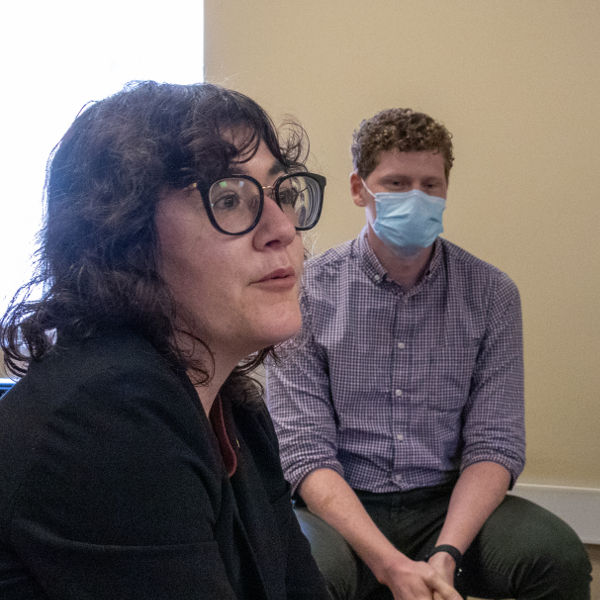 UE General Counsel Margot Nikitas and Staff Attorney Nick Stonecypher.
The GEB was also introduced to Margot Nikitas, who re-joined the UE staff as the union's new general counsel (head lawyer) at the end of August, and to Nicholas Stonecypher, who started as a staff attorney in February. Nikitas outlined her plans to save the union money by bringing legal work in-house, something she had great success with in her previous job as general counsel for the American Professional Flight Attendants union. She said that she and Stonecypher, as UE's legal department, are excited to "do whatever we can to support the organizing, the bargaining, [and] continuing to build a militant, member-run union movement."
General President Carl Rosen reported on his attendance at Unifor's national convention in August, as well as the union's international, educational and political action work.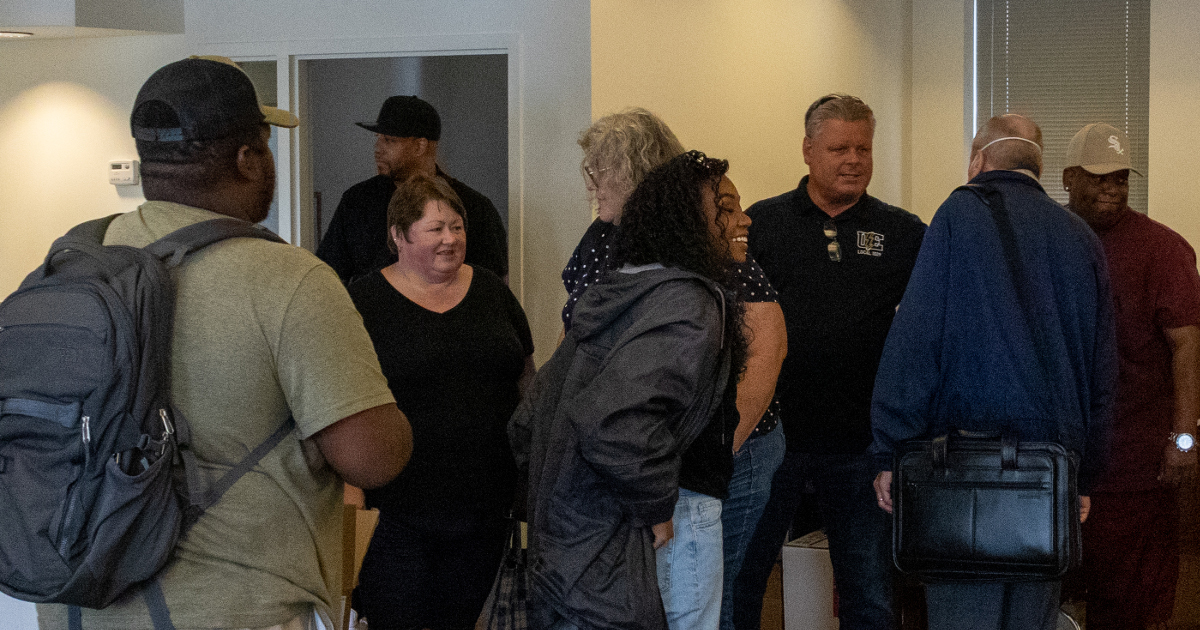 GEB members get a tour of the UE national office.