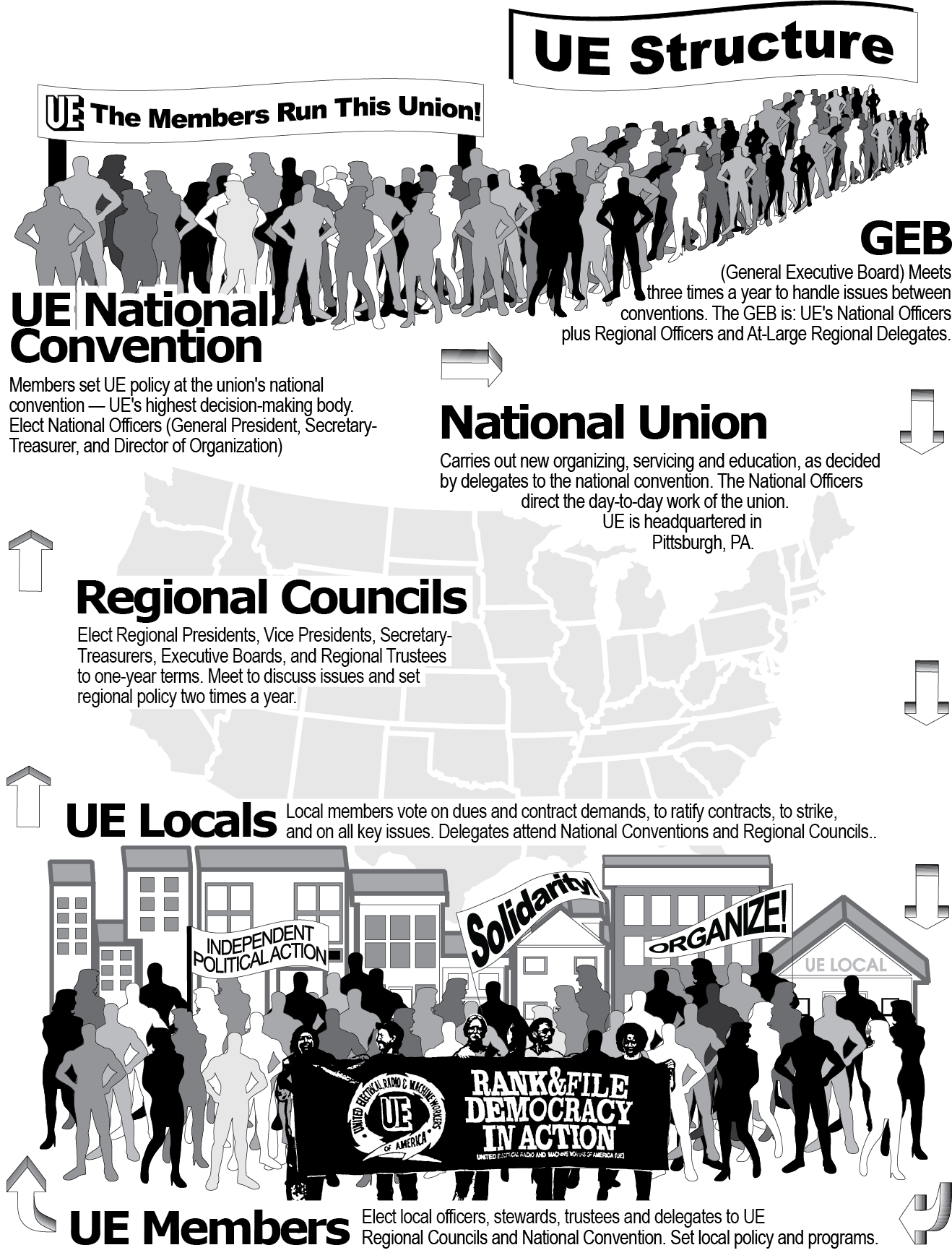 UE National Convention
Members set UE policy at the union's national convention — UE's highest decision-making body. Elect National Officers (General President, Secretary-Treasurer, and Director of Organization)
GEB (General Executive Board)
Meets three times a year to handle issues between conventions. The GEB is: UE's National Officers plus Regional Officers and At-Large Regional Delegates.
National Union
Carries out new organizing, servicing and education, as decided by delegates to the national convention. The National Officers direct the day-to-day work of the union. UE is headquartered in Pittsburgh, PA.
Regional Councils
Elect Regional Presidents, Vice Presidents, Secretary-Treasurers, Executive Boards, and Regional Trustees to one-year terms. Meet to discuss issues and set regional policy two times a year.
UE Locals
Local members vote on dues and contract demands, to ratify contracts, to strike, and on all key issues. Delegates attend National Conventions and Regional Councils.
UE Members
Elect local officers, stewards, trustees and delegates to UE Regional Councils and National Convention. Set local policy and programs.
More Information?
To learn more about your union, read Them and Us Unionism, a 24-page booklet explaining UE's philosophy, Them and Us: The Struggles of a Rank and File Union, and Solidarity and Democracy: A Leadership Guide to UE History. The publication UE Policy contains the resolutions adopted by delegates to the UE National Convention. These materials are available from the UE National Office and at the links above.