On Monday, August 26, UE held a new convention event highlighting women's leadership in honor of former UE organizer Florence Criley. Former UE General Secretary-Treasurer Amy Newell was a featured speaker at this sold-out fundraising luncheon.
Eastern Region president Donna Morgan gave remarks about Criley, who was an organizer with UE for 30 years. She was known as a tireless organizer of unorganized workers as well as a crusader in our shops battling against a bad boss or a raiding union.
Northeast Region president Autumn Martinez introduced Newell, who was the first and so far only woman to hold one of UE's national officer positions.
Newell shared stories of prior generations of UE women leaders, including about her own mother, who was an organizer during the same period as Criley, and her own time on staff and as an officer. Her mother, Ruth Allen Newell, chose to step back from being a full time UE organizer to have children, but she often got called up to defend the shops she had helped organize. In those moments when her mother left home, Newell said she learned about the broader struggle to help working people.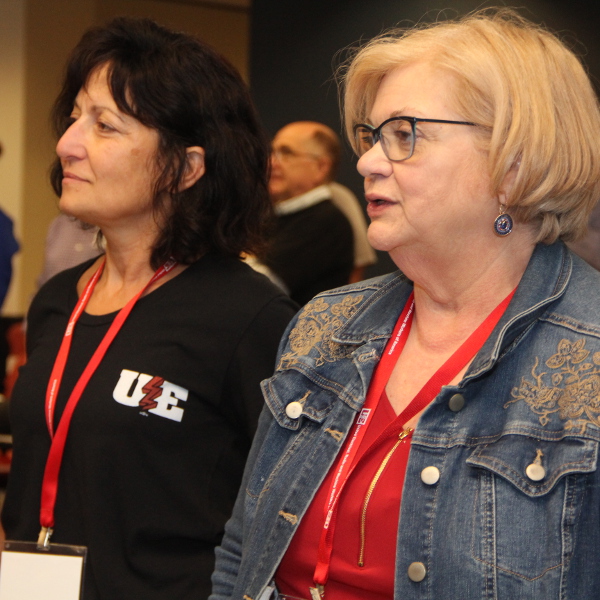 Karen Rizzo, Local 613, and Pat McCaughtry, Eastern Region
Newell also spoke about her efforts to overcome the hardships she faced to be taken seriously as a woman organizer, despite UE's commitment to inclusion and equity. Her efforts paid off though, when she won a closely contested election in 1985 for Secretary-Treasurer. As she recalled, her presence at the bargaining table with GE led that company to include a woman in their negotiating team in subsequent years.
Nathanette Mayo, Local 150, closed out the program by singing "Coming into My Years" by Betsy Rose, and led attendees to join her in the chorus.
The luncheon raised money to send more UE women members to union leadership training programs, such as those hosted by the United Association of Labor Educators. In addition to ticket sales to the luncheon, some members donated items for a silent auction, and a few people made additional donations to this new fund, hosted by the UE Research and Education Fund. Combined, these efforts raised more than $1500 — which was matched by a donation from the national union.