Delegates to UE's 76th Convention reaffirmed the union's longstanding commitment to Medicare for All, unanimously endorsing a resolution on Tuesday morning declaring that "the U.S. employer-based private health insurance system is a disaster" and demanding that Congress pass H.R. 1384, the Medicare for All Act of 2019.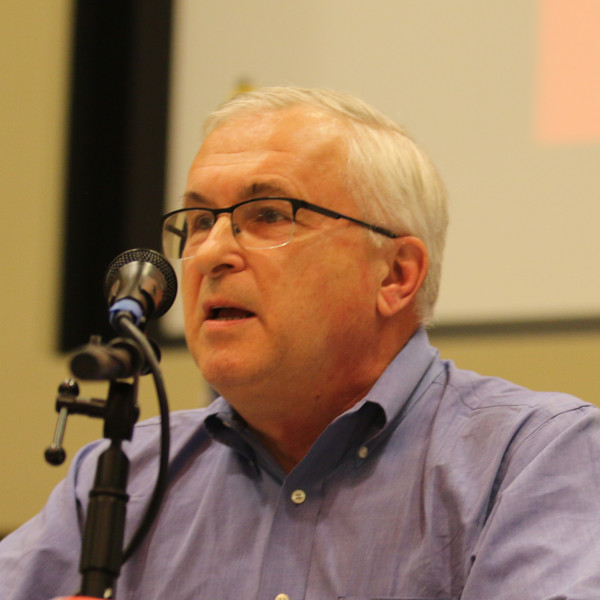 Mark Dudzic
Mark Dudzic of Labor For Single Payer addressed the convention after the resolution was read, telling UE members that "unions have got to be at the center of the movement" for Medicare for All because "unions exist to fight the kind of concentrated economic power" that the private insurance industry has.
Dudzic reviewed the history of how the employer-based healthcare system in the U.S. came about. As World War II neared its end 75 years ago, President Roosevelt proposed an "Economic Bill of Rights" for working people, which included a universal healthcare system that would cover every American. The Wagner-Murray-Dingell Bill to establish such a system was strongly supported by UE and other unions, but was ultimately defeated by the same reactionary postwar Congress that passed the union-busting Taft-Hartley Act to restrict workers' power.
Although unions were not strong enough to win healthcare as a right in the 1940s, Dudzic continued, they were strong enough to win healthcare as a benefit in union contracts — and with one in three workers belonging to a union in the postwar period, non-union employers felt obliged to offer healthcare benefits as well. The system "worked okay when unions were strong," but Dudzic pointed out that workers at the center of the economy — who tended to be white men at the time — had the best benefits, while others had worse or even no benefits. "So even in the best of times, this was a really dumb way to think about how you provided healthcare."
In the 1960s, the labor movement and its allies won Medicare, which was "a huge victory for working people, and at the time, it was expected that that would begin the advance to Medicare for All — that first we'd establish it for those over 65, and then we would move beyond that to make it universal for everyone." But instead Medicare was "cobbled on" to the employer-based system, creating a "crazy patchwork system."
That system "began to implode right around the time that people like Ronald Reagan started busting our unions," Dudzic said. At the same time that union-busting, plant closings and layoffs were decimating the unions whose bargaining power ensured healthcare coverage for millions of workers, "the same forces that drove union-busting were driving the commercialization of healthcare. Big businesses moved into healthcare and they looked at it as a business, and … costs began to increase radically."
"We Can't Continue This System Anymore"
Turning to the present, Dudzic declared that "At this point, the reality is that the employment-based healthcare system … is just unsustainable. We can't continue this system anymore." He cited recent statistics from the consulting firm Milliman that the average working family of four paid between $12,000 and $13,000 for healthcare last year, between employee contributions to premiums, co-pays, deductibles, out-of-network premiums, drug charges and other expenses.
Dudzic pointed out that the healthcare crisis affects both organizing and bargaining. Bosses "will move heaven and earth" to avoid their workers organizing and demanding better healthcare coverage. In organized shops, they hold healthcare over the union's head in negotiations:
"The boss knows that the one thing you've got to get at the bargaining table is healthcare coverage for your members, and they are going to hold that over you in every aspect of those negotiations. So it's come to the point that when we negotiate for healthcare, we're really bargaining against ourselves."
Fortunately, Dudzic said, "we might be close to fulfilling Roosevelt's commitment to the American working class, to make healthcare a right and to create economic security for working people," with public and union support for Medicare for All at an all-time high. However, he warned, it will not be easy. The "medical-industrial complex" is a $3.2 trillion industry — "the biggest, most profitable industry in the history of capitalism. We are going to have to build a powerful social movement that can take on that kind of concentrated economic power." He likened the current moment to "that moment in a union organizing drive right before the boss finds out that the union's in the shop," when workers have not yet experienced "the full, brutal onslaught of the employer campaign."
Dudzic told UE members they have a critical role to play in the fight for Medicare for All, and that victory is achievable. "We can win this fight, brothers and sisters. The time is now, and the unions have to be in the forefront."
UE Members Speak Out
Following Dudzic's remarks, UE members spoke on the floor about their experiences with the corporate healthcare system and the need for union political action to win Medicare for All. Joni Anderson, Local 1107, reported that her Congressman, Ron Kind, hasn't signed on to the Medicare for All Act of 2019 yet because he receives money from insurance and pharmaceutical companies, but that eventually politicians will have to choose between their corporate backers and working people. "If we keep putting the pressure on [politicians], and keep educating the people in our locals and in our communities, sooner or later that pressure is going to take hold."
Victoria Hilton, Local 808, emphasized that "We need to start having this discussion with our physicians" because many doctors are misinformed about Medicare for All and are "spreading a lot of the fear in their patients." Fred Harris, Local 601, contrasted the swift, efficient and free fixing of a pothole in his neighborhood with the tens of thousands of dollars he has paid for his daughter, a single mother, to be able to access healthcare. "Who among us is going to sit there and say that dirt, tar and stones is more important than their child and their grandchild? I mean, this is insanity in this country, there's no excuse for it there's no reason for it we have to stand up and do something."
Dominic Harris, Local 150, spoke about some of the shocking statistics of healthcare in the richest country in the world: between 30 and 45 thousand people die every year because they don't have access to healthcare, the U.S. has the highest infant mortality rate in the developed world, and mortality rates are even higher for Black people and other people of color. He urged every delegate to call the Medicare for All action hotline set up by National Nurses United (202-858-1717) to demand their member of Congress co-sponsor the Medicare for All Act of 2019. "I personally got 30 people to call in to that number myself," he reported. "We need to have 100% participation among ourselves."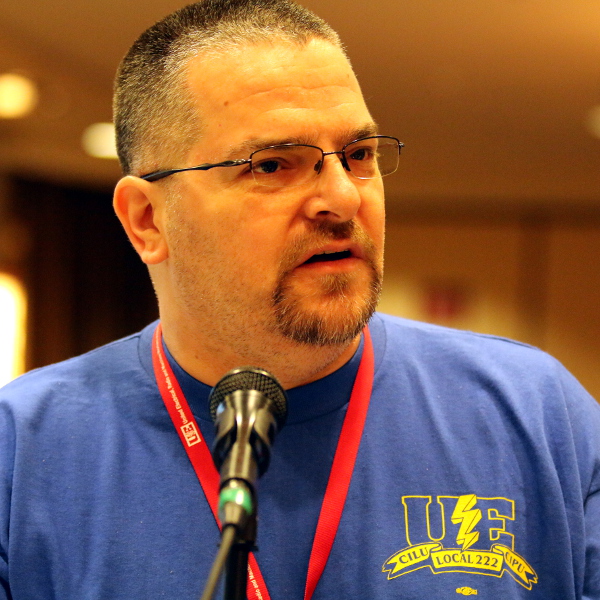 Bill Ladd, Local 228
Bill Ladd, Local 228, shared how medical costs could have easily bankrupted his family. His son was born at 28 weeks gestational age, just when a child's lungs are starting to develop, with cystic fibrosis, and had 3-4 hours of surgery at five days old and spent six months in the hospital. Since then, he's been on constant medications, including a gene therapy medication that costs $30,000 per month. Ladd estimated the total cost of his son's healthcare at around $1.2 million — a cost which has been shared between his insurance through work, a program at the hospital, and Maine's state Medicaid program.
Ladd expressed disgust that President Trump's attempts to cut Medicaid are "pulling that kind of care away from sick children." He also addressed those who would exclude undocumented immigrants from healthcare coverage. The fundamental moral question of healthcare policy, he suggested, is "Do I want to help my brothers and sisters or not?"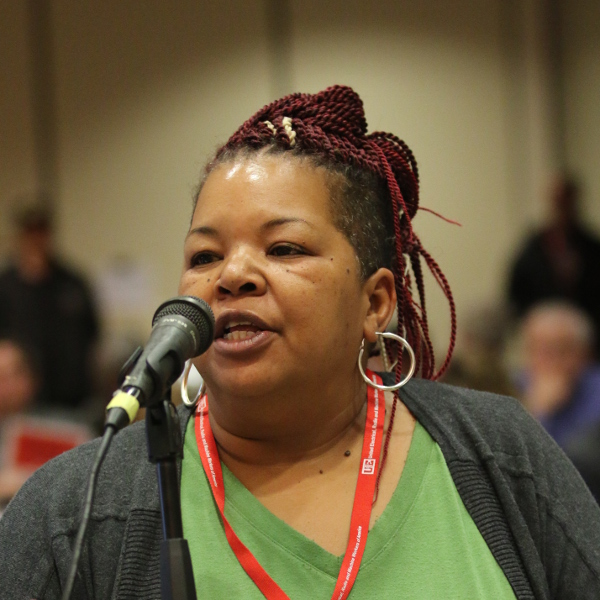 Sekia Royall, Local 150
Sekia Royall, Local 150, spoke about how the current healthcare system also fails adult children, who have to find their own health insurance once they turn 26. "My daughter has a pre-existing condition, sickle-cell, and so therefore we're having a hard time finding an insurance company that's going to pick her up," Royall said. "She turns 26 in three months and as of then she will be uninsured."
Also speaking on the resolution were Ricky Steele, Tom Bobrowicz and Scott Slawson, Local 506, Angaza Laughinghouse, Local 150, Marie Lausch, Local 222, Armando Robles, Local 1110, Emma Paradis, Local 255, Carl Rosen, Western Region, Donna Morgan, Eastern Region, Dawn Meyer, Local 808, Nola Lilly, Local 170, and Kathleen Coonrod and Marie McDonald, Local 203.
Taking It to the Streets
Convention delegates didn't just talk about Medicare for All, on Monday afternoon they held a healthcare rally in downtown Pittsburgh at the headquarters of UPMC, the conglomerate which dominates healthcare delivery in Western Pennsylvania. The UPMC building is also home to the global headquarters of the Kennametal Corporation, which is trying to force members of UE Local 274 in Greenfield, Mass. to give up their union-negotiated healthcare plan. (Local 274 members conducted a three-day warning strike earlier this month and are still in negotiations with the company.)
"The U.S. employer-based private health insurance system is a disaster," UE Director of Organization Gene Elk told the rally. "The only solution to the constant demand for givebacks by greedy corporations like Kennametal is Medicare for All."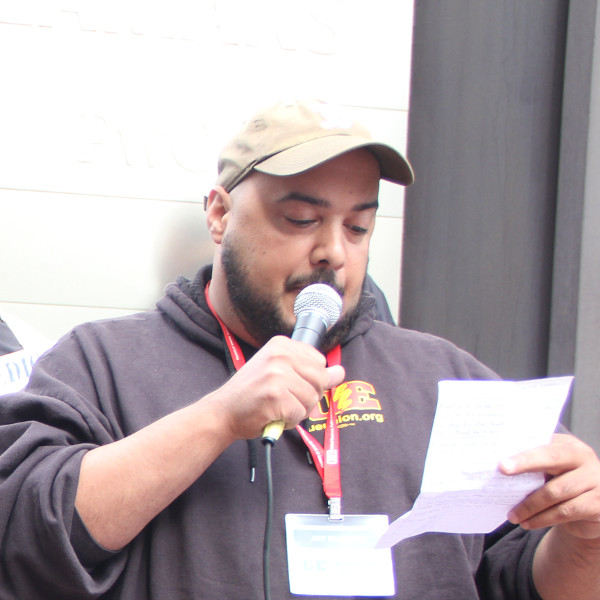 Jason McGrath, Local 274
Local 274 Secretary-Treasurer and Kennametal worker Jason McGrath described the company's "predatory and destructive proposals," including bringing temporary workers into the plant to do union work, mandatory overtime, and "the big one" — stripping UE members of their union-negotiated healthcare plan. The company wants to force UE members into a corporate plan that would bankrupt them and strip them of their right to negotiate over benefits. "I say hell, no!" McGrath declared. "Kennametal needs to return to the table and give us a fair contract now."
Dominique Daigneault, President of the Montreal Metropolitan Council of the Quebec union CSN and one of UE's international guests, spoke about how Canadian workers won a "universal, public, free health system for all" in the 1960s. "It changed a lot in Canadian lives," she said, because before the Canadian single-payer system was created, "health problems were the [most common] cause of bankruptcy" (as they are, currently, in the US).
"Like a lot of progress in politics, the people had to fight for that and the labor unions were at the forefront of the struggle, as you are today," Daigneault said, emphasizing that militance is key to not only winning but preserving universal healthcare. "In my country, every time that capitalist sharks try to privatize our system, people stand up and fight back."
Pittsburgh resident Frederica Phillips, an activist with Put People First-PA, told the rally how her uncle, who worked for fifty years in Wheatland steel mills and had so-called "Cadillac insurance," passed away shortly after retiring:
When he went to the emergency room they told him he needed to see a specialist. When he called to make an appointment with the doctor that the emergency room gave him, they told him it would be two months out before he could see him. He said "well, can I go to another doctor?" They said, "no they're not in your network so if you do you'll have to pay out of pocket."

Two days before he had his appointment to go to the doctor, my uncle passed away; he died right there on his living room floor.
Phillips also shared her own experience of going to the emergency room in 2004 after an accident which shattered one of her feet and fractured the other. After initially being kept in the hospital for three days because she needed to have surgery, she was told "we're going to just wrap it up and send you home and we'll see you in three months."
"The reason why they didn't want to do the surgery was because I was uninsured at the time," Phillips said. To this day, she is still suffering from the effects of delaying the surgery, and relies on medication and prayer to be able to get up and walk every day.
At Put People First-PA, Phillips said, "We believe, and we know, that health care is a human right — and as long as we know and we keep fighting together, we're going to win!"
FAT Co-Coordinators Rosalba Calva Flores and Eladio Abundiz Guadian also spoke; Calva Flores told the rally, "From Mexico we stand in solidarity with you in this important fight for healthcare."